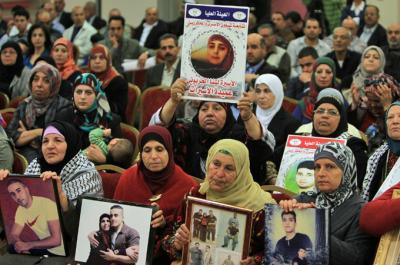 As Palestinians celebrate the occasion of Mothers' Day, 13 Palestinian mothers held in Israeli prisons and detention centers are unable to see their families. Palestinian mothers are often denied their right to a fair trial, family visits, and kept for several days or months under interrogation where they are subjected to torture and ill-treatment. The methods of torture and ill-treatment used against Palestinian mothers inside Israeli prisons cause severe physical and mental suffering. Interrogation methods include prolonged isolation from the outside world, inhuman detention conditions, excessive use of blindfolds and handcuffs, sleep deprivation, denial of food and water for extended periods of time, denial of proper medical treatment, denial of access to toilets, denial of access to showers or change of clothes for days or weeks, being forced into stress positions, yelling,  insults and cursing, and sexual harassment. Palestinian women are mainly held in HaShron and Damon prisons inside Israel, where they are illegally transferred from the occupied West Bank and Gaza into Israel. The illegal transfer of prisoners amounts to a violation of the Fourth Geneva Convention which states that "persons accused of offenses shall be detained in the occupied country."[1]
Medical Negligence: the Case of the Mother Israa Jaabes
Israa Jaabes, 31, of Jabal Mukaber, currently held in HaSharon prison suffers from medical negligence and lack of sufficient treatment after her car broke down near  Al-Zayem military checkpoint on 10 October 2015, where her airbag exploded causing a fire that led to her severe burns and injuries. Israa was with her 8-year-old child when the incident occurred and later she was transferred to Ein Karem Hospital, where she was given poor medical treatment despite suffering from severe injuries. Two months later, Israa was transferred to Al-Ramleh prison, then to HaSharon prison without completing her essential medical treatment. Israa still cannot walk and currently moves around by using a wheelchair and she is being taken care of by her fellow prisoners and not by  medical staff. Israeli Occupation Forces accused Israa of attempting to engage in an attack by exploding her car, however, the car did not explode and Israa was the only person injured in the fire inside the car. Israa's child has been unable to see his mother since her arrest. Israa's case highlights the brutality of the arrest process as well as the detention conditions for Palestinian mothers inside Israeli interrogation, detention and prison centers and even hospitals while in custody. The abuse, ill-treatment, and torture of Palestinian women take place within the context of ongoing occupation and annexation of Palestinian lands.
Names of Palestinian mothers currently held in Israeli prisons and detention centers:
1- Tamara Shreiteh from Hebron was arrested on 21/11/2015.
2- Haifa Abu Rmeileh from Hebron was arrested on 14/12/2015.
3- Abla Al-Adam from Hebron was arrested on 20/12/2015.
4- Ameera Hmeidat from Hebron was arrested on 16/11/2015.
5- Yassmin Shaban from Jenin was arrested on 3/11/2014.
6- Alia Abbasi from Jerusalem was arrested on 15/4/2015.
7- Israa Jaabes from Jerusalem was arrested on 10/10/2015.
8- Samia Mashahra from Jerusalem was arrested on 9/11/2015.
9- Khalida Jarrar (member of the Palestinian Legislative Council) from Ramallah was arrested on 2/4/2015.
10- Helwa Hamamra from Bethlehem was arrested on 8/11/2015.
11- Amina Salah from Bethlehem was arrested on 5/1/2016.
12- Nissren Hasan from 1948 territory was arrested on 18/10/2015.
13- Sana Al-Hafi from Gaza was arrested on 25/5/2015.