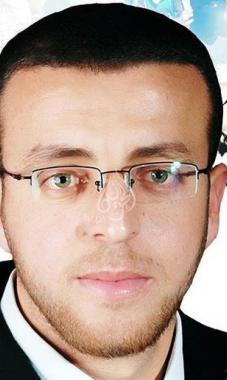 Name: Mohammad Adib Sulaiman Al Qeiq
Date of birth: 21/4/1982
Date of arrest: 21/11/2015
Residence: Ramallah
Place of detention: Afula Hospital
Marital status: Married and a father of two children
Education: Masters in Contemporary Arab Studies from Birzeit University
Profession: Reporter at Al Majd Saudi News Agency
Sentence: 6-month administrative detention order
On hunger strike since 25/11/2015
Arrest
Mohammad was arrested from his home in Ramallah on 21/11/2015 at 2:00 am. A large number of Israeli Occupation Forces raided Mohammad's house, shackled him, blindfolded his eyes and took him to Beit El settlement near Ramallah. Mohammad was left there for 20 hours in the open air. He was then taken to Moskobiyeh interrogation center and later was taken to Jalameh interrogation center.
It should be mentioned that this is Mohammad's fourth arrest. He was arrested in 2003 for a month, in 2004 he was arrested and detained for 13 months, and in 2008 he received a 16-month sentence where the charges revolved around his student activities in Birzeit Student Council.  
Torture and ill treatment during interrogation
Interrogation sessions started immediately after Mohammad's arrest. The interrogation lasted for 25 days, during which he was subjected to torture and ill treatment. On the fourth day of interrogation, Mohammad launched an open hunger strike in protest of torture. The interrogation sessions lasted for 7 hours a day. He was forced to sit in stress positions on the interrogation chair with his hands shackled behind his back. He was threatened with administrative detention and sexual harassment. The interrogators cursed and yelled at him continuously.
After 25 days of continuous interrogation sessions Mohammad was transferred to isolation cells in Megiddo prison while being on hunger strike. At Megiddo he received a six-month administrative detention order. He was transferred to Ramleh prison clinic on 18/12/2015 as a result of severe deterioration in his health condition and on 30/12/2015 he was transferred to Afula hospital.
Hunger strike
Mohammad Al Qeiq announced an open hunger strike on 25/11/2015 in protest of the torture and ill treatment that he was subjected to during interrogation by the intelligence forces (Shabak). He has been taking only water since the day of the hunger strike and has been refusing medical examination since 20/12/2015. Despite the severity of his health condition he currently continues with the hunger strike in protest of administrative detention.
Mohammad confirmed to Addameer lawyer, who visited him on 5/1/2016 at Afula hospital, that he has been throwing up blood and a yellow matter. He suffers from extreme pain, headaches, weight loss, weakness, stomach ache and joint pain. Addameer lawyer reported that Mohammad is shackled to the bed with two shackled on his right hand and both of his legs are shackled as well. Mohammad lays in the same position all the time.   
Mohammad added that the administration and doctors at Afula hospital pressure him to end his hunger strike and suggest that he would otherwise be force-fed. However, he told them that he forbids anyone from approaching him to take medical examinations or to feed him even if he loses consciousness. Mohammad also told the lawyer that he refused two offers by the intelligence commander to release him after one AD order renewal. Mohammad confirms that he will continue with the hunger strike until he is released without conditions.
Administrative detention
A six month administrative detention order was issued against Mohammad immediately after the end of the interrogation on 17/12/2015. The military judge "Shamon Ashwal" confirmed the order at Ofer military court without taking into consideration the critical health condition of Mohammad. The judge did not review Mohammad's medical report and did not address the fact that Mohammad is a journalist, despite the fact that the military prosecution claims that Mohammad's secret file contains material that purportedly suggest that he used his position as a journalist for incitement. 
The judge claims that Mohammad is active and affiliated with Hamas and the Islamic bloc (in Birzeit University) and that he is involved in military activities without specifying the nature of those activities. The judge also claimed that Mohammad is affiliated with "others" without defining who they are and confirmed the administrative detention order.
The military court's decision to confirm the order against Mohammad without any clear evidence or serious investigation confirms that the occupation authorities use administrative detention arbitrarily and in violation of international law, norms and conventions, particularly Article 78 of the Fourth Geneva Convention. Resorting to administrative detention immediately after an interrogation that did not result in any evidence that might incriminate Mohammad exemplifies the use of occupation authorities resorting to administrative detention when they fail to prove their claims and accusations.
The occupation denies Mohammad from practicing his job freely by incriminating his profession as a journalist, arguably in an attempt to stop him from exposing the crimes committed on daily basis by the occupation forces against Palestinians. This violates Article 23 of the Universal Declaration of Human Rights which guarantees every individual's right to work. Mohammad Al Qeiq is an active reporter, journalist and a human rights defender. The violation of Article 19 of the International Covenant on Civil and Political Rights and items (1 and 2) that stress the individual's right to have and express his or her opinions in any means (whether written or spoken) without harassment.
It should be mentioned that Mohammad's arrest came as part of a collective arrests campaign that targeted all Palestinians since the beginning of the popular Palestinian uprising in October 2015. This campaign is a systematic policy and a method of collective punishment. Many detainees were accused of incitement, which was mentioned in some of the public data in Mohammad's case.  
Family
Mohammad Al Qeiq is married to Mrs. Fayhaa Shalash who is also a journalist. He has two children: Islam (3 years old) and Lour (one year old). His family was not allowed to visit him since the day of the arrest. On 6/12/2015, his family announced in the Red Cross offices in Ramallah that they refuse coordinating for any family visits as long as Mohammad is on hunger strike (as a move of support and solidarity), and demanded his immediate release.