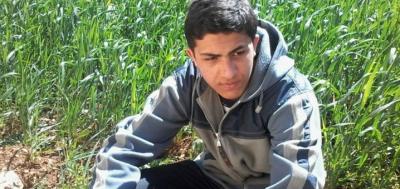 Full name: Hamza Moayyad Shukri Hammad
Date of birth: 20/01/2000
Arrest:
On Sunday 28/2/2016, Hamza's mother woke up at approximately 2:00 AM to the sounds of the house doors exploding. A few minutes later, the Israeli Occupation Forces  raided the house and entered the bedrooms. They immediately pointed their weapons at the family members, including the children. They asked Bilal and Hamza to get off their beds with their hands above their heads. 12-year-old Bilal was frightened and as a result, was unable to move. His mother immediately began assuring him that everything is going to be fine and told him to get out of his bed.
At the same time, two soldiers were taking Hamza to another room. A while later, the officer in charge came in and started talking to Hamza's mother about the reason behind the arrest, and it was mentioned that Hamza was arrested few months ago where he was subjected to interrogation and then released without charge. The officer stated, "Hamza should stay in prison since his father killed a number of soldiers."
Previous arrest (six months ago):
This is not Hamza's first arrest; he was arrested on 28/08/2015 (six months before this current detention). According to his mother, he was interrogated for 20 days in Moskobiyyeh Interrogation Center where he was subjected to harsh interrogation conditions despite the fact that he is a child, and despite the fact that he should not be subjected to any form of torture or ill-treatment as stated by Article 37 of the Convention on the Rights of the Child.
Hamza's mother stated, "This detention had an impact on all of us. Starting from a huge force of soldiers raiding and ransacking our home and destroying our furniture… as well as entering dogs inside the house very late at night. In addition to the way they took and shackled Hamza and then torturing him during the interrogation. Hamza was put under great psychological pressure during the long hour of interrogation; he was put under a lie detector three times and was told that if he gives information and confesses he will see his father."  
His mother reported to the Documentation Unit at Addameer that Hamza was beaten while being transferred from the interrogation room to the cell by the interrogation staff and guards; while Hamza was blindfolded, one of the interrogators put his foot in front of him causing him to fall. Immediately after falling, two interrogators attacked him and started beating him up all over his body. The interrogation ended after 20 days, and Hamza was not presented with any charges. The detention affected his health severely; he suffers from continuous backache because of all the beating, and stomach ache believed to be caused by the food he was given during the interrogation period.  
Administrative Detention and Legal Status:
The military prosecution claims that the child, Hamza Hammad, is active in an illegal organization and that he participates in activities, including military ones, affiliated with the same organization. Hamza was arrested six months before his latest detention and was released on bail after 20 days of interrogation, without any charges against him. A six-month administrative detention order was issued against him from 28/02/2016 and ending on 27/08/2016. On the order confirmation hearing, which was held on 09/03/2016, the judge reduced the order period from six months to four months. However, the judge claimed that there is dangerous information that requires Hamza's detention and that he imposes a threat to the security of the state.                                            
Hamza's case exemplifies occupation authorities' use the policy of administrative detention against children to keep them in prison even when the prosecution fails to provide clear charges against them.
The Youngest Administrative Detainee:
Occupation forces continue to target Palestinian children and practice arbitrary and suppressive measures against them. The occupation continues to sow fear and terror in the minds of children, inhibiting their development and intellectual growth within society. The policy of detention in prisons that lack minimum standards of humanitarian living, as well as sentences of months or even years in prisons without taking into consideration that fact that they are children, contravenes international law, particularly that as stipulated by international law, children should be detained only as a last resort. Additionally, in cases such as Hamza's, the use of administrative detention is based on secret information to which the child and his or her attorney do not have access.
There are currently eight children held under administrative detention, the youngest of whom is 16-year-old Hamza Hammad. It is clear that the occupation authorities have increased the use of administrative detention policy as a punishment since the escalation of October 2015. Targeting children and holding in them under administrative detention gravely affects the lives of these children, their education and intellectual development. Hamza was in 11th grade and his education has been suspended due to his arrest. His mother says, "Hamza is a child with plans and ambitions. He is a hardworking student and everybody loves him. The detention will surely affect him, his education and life in general."
Hamza is currently held in Ofer military prison with other detained children, who that the occupation denies freedom and their right to education.
Family:
Hamza's family consists of three boys and a girl: Hamza (16 years old), Bilal (12 years old), Tawheed (14 years old). The children live with their mother. Their father was arrested in 2003 and received seven life sentences. Hamza has never visited his father in prison. His mother is only allowed to visit her husband once every three years, after the intervention of human rights organizations.