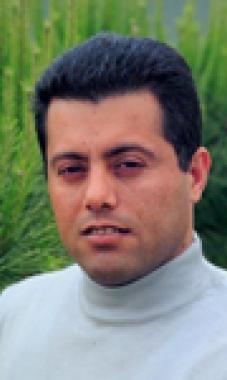 Eteraf Bajes Hajjaj/Rimawi
Date of birth: 30/4/1976
Residence: Ramallah
Date of arrest: 15/9/2014
Place of detention: Ofer prison
Legal status: Six-month administrative detention order starting from 18/9/2014
Profession: Executive director of Bisan
Arrest:
Rimawi's family woke up at 5:00 AM to the sound of explosives and strange noises inside their building in Ramallah. Israeli Occupation Forces (IOF) entered the building in huge numbers. They removed the door of one of the apartments and entered, but when they checked the residents' IDs they found out that it was not Rimawi's apartment. The soldiers immediately headed to Rimawi's apartment in the first floor. Eteraf's wife, Renad, opened the door so they would not break it. 15 armed soldiers barged inside the house pointing their weapons at the family members, including children. An intelligence officer wearing the military uniform entered the house and allowed Renad to take her children to another room (which the soldiers had refused previously to allow her to do). The soldiers took Eteraf outside the house. They shackled him and brought him back a while later to say goodbye to his family. His wife insisted on not saying goodbye to him, but his son Majd held him tight and started crying.
Previous arrests:
Eteraf was arrested five times, the latest was on 25/8/2008 after which he spent a year in administrative detention. He was released on 7/11/2009. He also spent 4 months in administrative detention in 2003. In 2000, he received a 16 month sentence and a 5000 NIS fine. On 1996 he spent a year in prison. In 1995 he spent 2 months in interrogation and was released without charge.
Legal status:
On 23/9/2014 judge Durani confirmed the administrative detention order in Ofer military court at a judicial review hearing stating: "Eteraf Rimawi is an activist in an illegal organization and is active within his area of residence along with others that are currently in detention. Eteraf was arrested a number of times and he is back to his previous actions."
Addameer lawyer, Aouda Zbeidat, requested to know who the others are that the prosecution is claiming to have worked with Eteraf on illegal actions. She also requested to know whether they were interrogated or not, and if they are currently held under administrative detention or if they have lists of charges. The prosecution refused to answer any of the lawyer's questions and said that all of the details are in the secret file. The judge also refused to answer the question confirming that the information will remain confidential.
Zbeidat said in court that Eteraf has been the director of Bisan, a center that is specialized in doing research about social and economic developments since 1989, for two years. And as a result of his position at the center, he developed a network of relations with different people and organizations. She added that she examined the court's files and was able to find only one article that is published in 2010, regarding organizing a summer camp that is affiliated with an illegal organization. This information cannot be an adequate legal base for issuing an administrative detention order.
Eteraf stated in his hearing that, "the intelligence did not interrogate me. They only asked me one question that I couldn't really understand. A short while later, a six-month administrative detention order was issued against me. This detention affects me, my family and work heavily." Eteraf also asked for a genuine interrogation. He added that the information in his secret file is far from the truth and that his position at work requires him to create networks with all parts of the society.
The judge confirmed Eteraf's order in the same session. His decision was made after he was convinced that the information in the secret file cannot be published because publishing such information might compromise the security of the region. The judge claimed: "I reached a conclusion that forces me to confirm the administrative detention order because of the danger the detainee poses. I am convinced that I should not reduce the period of his order and that administrative detention is the only way to prevent the danger this detainee constitutes. Accordingly, I confirm this order." It should be mentioned that these claims are stated in the bulk of military court hearings regarding administrative detention cases.
Eteraf's case is only an example of the Occupation's policy of using arbitrary detention, especially administrative detention, against Palestinians, which is a violation of the international humanitarian law and human rights law. His case also shows how the military commander uses administrative detention against Palestinian activists and human rights defenders based on claims that criminalize all of the Palestinian political factions and any action that protests the occupation and its practices.
Eteraf Rimawi's detention is a severe violation of his right of movement and expression as a human rights defender. It also violates the protection guaranteed to human rights defenders in the International Declaration on Human Rights Defenders issued by the General Assembly of the United Nations in 1998.
Rimawi's arrest falls within the occupation's policy that targets civil society organizations in order to destruct their bases. It targets human rights defenders and activists as well. Eteraf is a director of an organization that aims to develop the Palestinian society and participate in strengthening Palestinians in order to build a democratic active society.
Family:
Eteraf is married and a father of three children. His wife is Mrs. Rinad Zurob, public relations and media director at the Union of Palestinian Women's Committees. He has two sons and a daughter: Majd (12 years old), Wajd (9 years old), and Basil (2 and half years old). He is the brother of Ahmad Hajjar who is currently held in prison. Ahmad was arrested on 16/7/2003 and received a 17 year sentence. Eteraf was not able to visit his brother for "security reasons".
Eteraf filed a request to the IPS asking to transfer his brother from Naqab prison to Ofer so they can be together. His request is still being examined by the occupation authorities. Eteraf's wife has not been given a permit to visit her husband to this moment as part of the obstacles and punitive measures imposed by the occupation forces since June 2014.