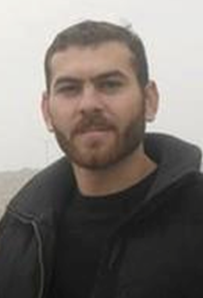 Date of Birth: 4 February 1985
Place of residence: Kufr Ra'i, Jenin
Occupation: Barber
Date of arrest: 17 August 2011
Place of detention: Ramleh prison medical center
Number of administrative detention orders: 2
Date of release: 14 August 2012
Click 
here
 to view this profile as a PDF.
On 14 May 2012, Bilal Diab ended his 77-day hunger strike upon the conclusion of Palestinian prisoners' mass hunger strike and an agreement that he would be released at the end of his current administrative detention order. He was released on 14 August 2012.
ARREST
Bilal Diab was arrested on 17 August 2011, when Israeli Occupying Forces (IOF) came to his home in the village of Kufr Ra'i, near Jenin, at 12:30 am. The family and a large group of friends and neighbors were sitting in the front yard, spending time together late into the night for Ramadan, when approximately 40 masked men, wearing civilian clothes, surrounded the house and entered the yard by climbing the walls of the neighbors' houses. Bilal, along with four others, were sitting on the roof. After about 10 minutes, Israeli military jeeps arrived, accompanied by an intelligence officer.
The IOF began to throw sound bombs and shoot teargas into the yard, and then forced everyone to stand against the wall. Some of Bilal's family members and friends were taken to a nearby store, where they were held until the arrest process was over. The rest of the group was kept in the front yard. Bilal's brother, Issam, was thrown violently to the ground. His hands were shackled behind his back and then two soldiers stepped on his head.
Bilal and four of his friends were questioned for about 15 minutes. His four friends were then released, but Bilal was shackled, blindfolded and thrown to the ground. He was then dragged across the ground for 250 meters until reaching the military jeep. Bilal was taken to Megiddo prison, and then transferred to Salem Detention Center for interrogation.
ADMINISTRATIVE DETENTION AND HUNGER STRIKE
Bilal was issued an administrative detention order for 6 months on 25 August 2011. As with all other administrative detainees, Bilal's detention is based on secret information collected by Israeli authorities and available to the military judge but not to Bilal or his lawyer. This practice violates international humanitarian law, which permits some limited use of administrative detention in emergency situations, but requires that the authorities follow basic rules for detention, including a fair hearing at which the detainee can challenge the reasons for his or her detention. These minimum rules of due process have been clearly violated in Bilal's case, leaving him without any legitimate means to defend himself.
Bilal's administrative detention order was renewed for another six months on 14 February 2012. Bilal began an open hunger strike in protest of his administrative detention on 28 February. When he started his hunger strike, he was in Al-Naqab prison. On 21 March, he was transferred with another hunger striking prisoner, Thaer Halahleh, to Ramleh prison medical center. They are both currently being held in isolated cells, in the same section as prisoners with criminal offenses. Physicians for Human Rights-Israel (PHR-Israel) noted that "after losing consciousness a number of times, Mr. Diab was hospitalized twice at Assaf Harofeh Hospital, but was subsequently returned to [Ramleh prison medical center]." Bilal's lawyer, Jamil al-Khatib, expressed concerned about his health condition. Bilal had also undergone a 14-day hunger strike in the previous month in solidarity with Khader Adnan.
Addameer lawyers have been denied access to Bilal and Thaer since they were transferred to Ramleh prison medical center. The Israeli Prison Service (IPS) claims that Bilal is receiving appropriate treatment and that he cannot be visited. These claims are contrary to evidence provided by Bilal through his lawyer and family that he is enduring difficult conditions in an isolated cell. Following repeated requests to the IPS and an urgent appeal submitted to the District Court on 1 April demanding access, a PHR-Israel independent doctor visited Bilal and Thaer on 9 April. Bilal had been refusing to drink water for two days, demanding to be transferred to a civilian hospital. The International Committee of the Red Cross communicated to his family on 12 April, however, that even though he had not been transferred to a hospital, he had started drinking water again, including vitamins and salts.
Bilal had a hearing in the appeal of his administrative detention order on 4 April, which he attended in a wheelchair. At the time, the decision on his appeal was postponed repeatedly for two weeks and was eventually rejected.
PREVIOUS ARREST
Bilal previously spent seven years in Israeli prison. He was first arrested with his brother Bassam on 2 October 2003, when he was 18 years old, and served a seven-year sentence, before being released on 17 February 2010. He was not permitted to see his brother during this period, though they were both in prison.
BILAL'S FAMILY
Bilal and his family have been consistently targeted for arrest by Israeli authorities. Bilal's family consists of his mother, who is 65 years old and suffers from diabetes and other ailments, two sisters and ten brothers, most of whom have been arrested at least once.
According to his family, their home was raided by the IOF more than 18 times throughout the Second Intifada; each time, at least one family member was arrested. In addition to being arrested in 2003 along with Bilal, Bilal's brother Bassam was also arrested in February 2010 and sentenced to seven months in prison. Bilal's brother Issam was arrested in 2006 and spent 10 months in administrative detention before being sentenced to 16 months in prison. Allam was held for six months in administrative detention in 2003, while Hammam was arrested in both 1993 and 1998 and spent 14 months in prison each time. Azzam, who is 34 years old, was arrested in 2001 and given a life sentence. He is currently in Ashkelon prison. On 29 March, he went on hunger strike in solidarity with Bilal.
Bilal's mother applied for permission to visit her son through the International Committee of the Red Cross, but was denied for "security reasons." Bilal has had no family visits since the day he was arrested. His family is calling on the international and local communities to start acting now on behalf of Bilal, as "he is facing death." They also demand the end to administrative detention.
***
Administrative detention is a procedure that allows the Israeli military to hold detainees indefinitely on secret information without charging them or allowing them to stand trial. In the occupied Palestinian West Bank, the Israeli army is authorized to issue administrative detention orders against Palestinian civilians on the basis of Military Order 1651. This order empowers military commanders to detain an individual for up to six month renewable periods if they have "reasonable grounds to presume that the security of the area or public security require the detention." On or just before the expiry date, the detention order is frequently renewed. This process can be continued indefinitely.
For more information about administrative detention and Addameer's Campaign to Stop Administrative Detention see: 
Read Addameer's report on administrative detention:
**** 
ACT NOW!
Here is how you can help Bilal Diab:
*Write to the Israeli government, military and legal authorities and demand that Bilal Diab be released immediately and his administrative detention order not be renewed.
Brigadier General Danny Efroni
Military Judge Advocate General
6 David Elazar Street
Harkiya, Tel Aviv
Israel
Fax: +972 3 608 0366; +972 3 569 4526
Email:

[email protected]

;

[email protected]

Maj. Gen. Nitzan Alon
OC Central Command Nehemia Base, Central Command
Neveh Yaacov, Jerusalam
Fax: +972 2 530 5741
Deputy Prime Minister and Minister of Defense Ehud Barak
Ministry of Defense
37 Kaplan Street, Hakirya
Tel Aviv 61909, Israel
Fax: +972 3 691 6940 / 696 2757
Col. Eli Bar On
Legal Advisor of Judea and Samaria PO Box 5
Beth El 90631
Fax: +972 2 9977326
*Write to your own elected representatives urging them to pressure Israel to release Bilal Diab and to put an end to such an unjust, arbitrary and cruel system of incarceration without trial.