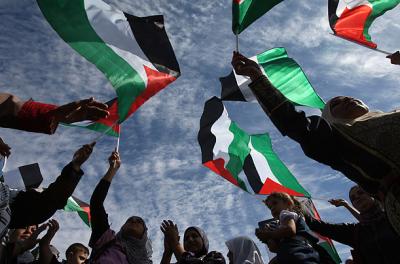 Palestinians, like any other people, have the right to resist foreign domination, exploitation, oppression and occupation by the means permitted under international law and the UN general assembly resolution that "Reaffirms the legitimacy of the struggle of peoples for independence, territorial integrity, national unity and liberation from colonial and foreign domination and foreign occupation by all available means including armed struggle". This right is recognized by the United Nations and must be respected by all States, including by donors providing foreign aid. PNGO strongly condemns the policy of donors to condition the grant of foreign aid upon the relinquishment of this right by Palestinians. We reject aid that is used as a means to coerce our people into submission to daily human rights abuses and confiscation and colonization of our land by the Israeli occupation.
We condemn in particular the collusion of governments and aid providers with Israel's campaign of de-legitimization and repression of non-violent resistance. We remind of the fact that Palestinian advocacy for campaigns that call for ending the occupation, establishing a free Palestinian state is to be respected and protected as part of the fundamental rights to freedom of expression, assembly, and association. In this vein, we commend the EU, as well as the governments of Sweden, Ireland and the Netherlands, for their explicit affirmation of the right of Palestinians and conscientious citizens worldwide to campaign for BDS and other similar movements.
Accordingly, PNGO affirms the following:
1-We reject all de-legitimization or criminalization of lawful Palestinian resistance, whether in form of allegations of terrorism, anti-Semitism or otherwise.
2-Any exclusion of NGOs or community-based organizations from access to foreign aid because of their role in defending Palestinian human rights, are arbitrary, discriminatory and must stop.
3-We consider the withholding of foreign aid from legitimate Palestinian resistance to be a form of support of the illegal Israeli occupation. We hold states that pursue such discriminatory and arbitrary aid policy responsible for violation of their obligations to cooperate to end Israel's flagrant violations of international humanitarian law and to give no recognition, aid or assistance to their maintenance.
4-We call on all governments and aid providers to respect our right to lawful resistance, support Palestinian human rights defenders, and ensure equal, impartial and transparent access to funding for all.
Contact us: [email protected]