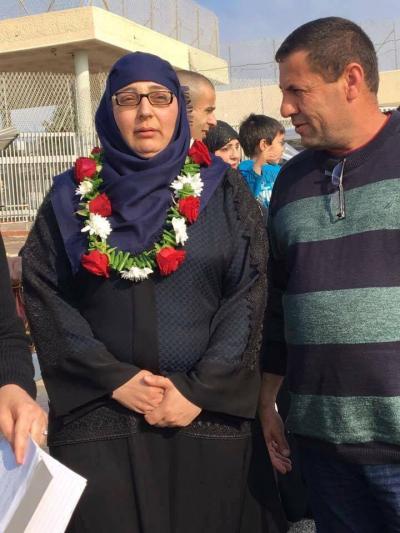 Longest-serving female Palestinian prisoner Lina Jarbouni has been released today after 15 years of imprisonment. Lina Jarbouni, 43 years old, from Arabet Al-Boutof in Galilee, has been imprisoned since 18 April 2002.
Jarbouni was charged with communicating with the "enemy," and sentenced by the District Court in the city of Haifa to 17 years in jail. Despite her suffering in Israeli captivity, she was in high spirits and had a strong character, and was mandated by female Palestinian prisoners to represent them and be their spokeswoman. 
Jarbouni was born on 11 January 1974 among 9 sisters and 8 brothers. On the early hours of 18 April 2002, more than 30 Israeli army vehicles surrounded her family house, arresting Lina along with her brother Said. Both were taken handcuffed and blindfolded to Jalameh detention center. She remained 30 days in an interrogation center, where she was subjected to various forms of torture such as insults, isolation and sleep deprivation.