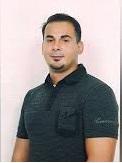 Kayed's  Appeal Hearing in Israeli High Court Scheduled Two Months Away Despite Health Condition
The Israeli High Court has scheduled an appeal hearing for Administrative Detention of hunger striking detainee Bilal Kayed to 05 October 2016, about two months from today, despite his deteriorating health condition. The appeal was submitted by Addameer's attorney to cancel the administrative detention of Mr. Kayed.
Mr. Kayed  has entered his 58th day on hunger strike and has affirmed to Addameer's director, Attorney Sahar Francis in a visit to Barzilai hospital today (11 August 2016) that he continues to refuse medical examinations and treatment, as well as vitamin supplements and is only consuming water, along with salts, sugar, and vitamin B1 only when needed.
Mr. Kayed also reported to Addameer's attorney that following the stand of solidarity in front of Barzilai hospital on Tuesday, 9 August 2016, that the Israeli Prison Service has been intimidating him; for example, he was surrounded by 25 armed police officers even though he is shackled with his right hand and left foot to his bed. Additional shackles have also been added to his feet, chaining him to the bed, despite the appeal submitted to the High Court by Physicians for Human to remove the shackling of his hand and legs. The IPS has also held him responsible for the mass hunger strikes inside the prisons, and the escalation taking place outside the prisons.
Mr. Kayed also stated to Addameer's attorney that on his 60th day of hunger strike, he vows to continue his disobedience by refusing to take vitamin B1 and any other vitamins, even when he is experiencing severe pain. The doctors have informed Mr. Kayed that he will be transferred to the Intensive Care Unit in case he loses consciousness.
 Bilal Kayed is suffering from pain in the chest pain, kidney, jaw, eyes, ears, legs, as well as severe headache. He also suffers from blurred vision, numbness throughout the body, hair loss, as well as yellowness and peeling of the skin. Mr. Kayed has been denied any visitations by doctors that do not work for the IPS.   
Despite his deteriorating health condition, Mr. Kayed is still in high spirit and she appreciates all of the local and international solidarity actions taken to support him and his fellow hunger strikers. Mr. Kayed has vowed to continue his hunger-strike until he is freed.
Addameer calls upon the international community to demand that the Israeli government to respect the will of hunger strikers who use their bodies as a legitimate means of protest, which has been recognized by the World Medical Association (WMA) Declaration of Malta on Hunger Strikes as "often a form of protest by people who lack other ways of making their demands known." Addameer also calls upon the international community to stop the use of administrative detention as recommended by the United Nations Committee Against Torture (CAT), in its concluding observations on 13 May 2016, which called on the Israeli government to "[t]ake the measures necessary to end the practice of administrative detention and ensure that all persons who are currently held in administrative detention are afforded all basic legal safeguards." Addameer further demands the international community, including the European Union, the United Nations, and the International Committee of the Red Cross, to intervene immediately to save the lives of Bilal Kayed and other hunger striking prisoners, some of whom are in critical medical conditions.