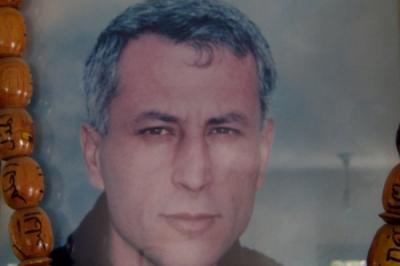 Karim Younes, known as "the Dean of Palestinian prisoners," wrote a letter emphasizing that the prisoners will to continue with the hunger strike until victory or death, and despite repressive measures taken by prison forces to break the will of hunger-striking prisoners and detainees.
Prisoner Younis also said in the letter that the prisoners informed the Israeli Prison Service (IPS) administration that they are ready for serious negotiations only, and not for any empty sessions or promises.
Mr. Younes added that the only body authorized to negotiate are the leaders of the strike, and according to the standards set in the beginning of the strike.
Full text of the letter:  
Our noble people,
From the cells of steadfastness, freedom and dignity in the isolation section of Ramla Prison, we salute you and appeal to you individually.
We assure you of our steadfastness and determination to achieve victory no matter how long the battle lasts.
We assure the masses of our people that the news of their solidarity and support reach us despite the isolation and siege, and we firmly believe in the inevitability of victory no matter how fierce the battle gets.
While the prison authorities have used all forms of repressive measures in order to break our will and subjugate us, these measures only increased our determination to continue with the hunger strike.
Representatives of the occupation intelligence services have tried to hold false and futile negotiations with us aimed at breaking the hunger strike in exchange for empty promises.
That is why we have told them that we are ready for serious negotiations only, and not for any empty meetings that aim at ending the hunger strike. Therefore, we do not consider their previous attempts as  negotiations, but a way of gaining time.
We also assure that the only authority authorized to negotiate is leaders of the strike and according to the criteria and principles that it set before the beginning of the battle.
Today, on the 28th day of the strike, we assure our people that our steadfastness and firmness cannot be destabilized by any force.
However, if the occupation authorities are depending on the factor of time, we are the best at making time in our favor.
Either victory or martyrdom.
And nothing but victory .... because there is no life without dignity.
Your brother Karim Yunus
Ayalon Prison – Ramla