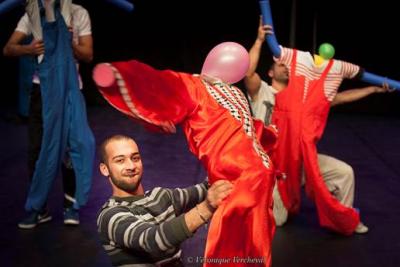 Appeal against the administrative detention of Palestinian circus trainer and performer Mohammad Abu Sakha has been rejected. The appeal was based on the fact that Abu Sakha is being held without charge and trial, which amounts to arbitrary detention. Mohammad Abu Sakha was arrested on 14/12/2015 at around 4:00 pm while he was crossing Zaatara military checkpoint near Nablus to go to his work in Birzeit village, near Ramallah. Abu Sakha works as a trainer and performer at the Palestinian Circus School since 2007. He was a school student at the time. He became a performer and a trainer in the circus in 2011. He participated in many performances in Europe and the United States. He also participates in many tours in Palestine. He was supposed to participate in trainings outside Palestine in March and June 2016.
A six-month administrative detention order was issued against Mohammad starting from 25/12/2015 and ending on 13/6/2016. The military prosecution claims that Abu Sakha is active in an illegal organization according to the occupation military orders. The prosecution also claimed that Abu Sakha has military activities without specifying the details of these activities, in addition to claiming that he is affiliated with other detainees without identifying the names of these detainees. The military judge at Ofer military court confirmed the administrative detention order on 5/1/2016 without having adequate evidence or clear information, or even investigating the accuracy of the information that was filed against him by the military prosecution. The judge claimed that Abu Sakha poses a serious threat and that the general conditions in the area require keeping him in detention.
Administrative detention is a procedure that allows the Israeli military to hold detainees indefinitely on secret evidence without charging them or allowing them to stand trial. In the occupied Palestinian West Bank, the Israeli army is authorized to issue administrative detention orders against Palestinian civilians on the basis of Military Order 1651. This order empowers military commanders to detain an individual for up to six-month renewable periods if they have "reasonable grounds to presume that the security of the area or public security requires the detention." On or just before the expiry date, the detention order is frequently renewed. This process can be continued indefinitely.