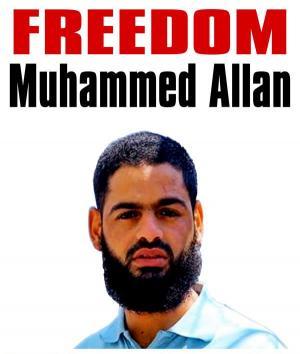 Ramallah- 16/9/2015- Addameer Prisoner Support and Human Rights Association condemns the re-arrest of Mohammad Allan Wednesday morning immediately after the administration of Barzilai Hospital in Asqalan decided to release him. Addameer's Documentation Unit reported that around 9 am, Israeli occupation forces arrived at Barzilai hospital, shortly after the hospital's director signed Allan's release forms, then proceeded to re-arrest Allan and transferred to the Clinic of Ramleh prison. The spokesperson of the Israeli police announced that Allan was arrested by an administrative order under which he will continue the remainder of the original administrative detention order issued against him and which ends on 4/11/2015. Allan immediately resumed his hunger strike in protest.
The Israeli occupation's High Court suspended on 19/8/2015 Allan's administrative detention after his health deteriorated in the aftermath of a 64 days open hunger strike which he embarked on in protest to his detention without charge or trial. Back then, Allan had lost consciousness and suffered from brain damage resulting from vitamin B1 deficiency. 
The re-arrest of Allan despite his unstable critical health condition and after suspending his administrative detention order for weeks only confirms the arbitrariness and reprisal nature of the arrest. It further demonstrates the complicity of the hospital's administrations with the occupation's intelligence forces and judicial system who aim to hold Palestinians in detention for as long as possible even if without charges or trial. Furthermore, the use of administrative detention as provided for under international law is only allowed as a precautionary measure to prevent any future threats posed by an individual. Allan in his current health condition could not possibly pose any kind of threat that would justify his detention by the occupying power.
Addameer reaffirms its position that the High Court's decision from last August to suspend Allan's administrative detention order and not to cancel it only condones the use of administrative detention in such a fashion that violates international law and in particular the Fourth Geneva Convention. The court's decision simply affirms that Palestinians cannot seek any form of justice or redress from the Israeli judicial system.
In its decision, the High Court disregarded the systemic use of administrative detention in violation of Article 78 of the Fourth Geneva Convention. Article 78 limits the detention of protected persons by the occupying power in cases of imperative security threats for limited time periods and within procedural guarantees prescribed by the occupying power that must correspond with the provisions of the Fourth Geneva Convention. The court further failed to address the violations of the right to fair trial before an independent and impartial judiciary that administrative detainees face by military courts and their rights to procedural guarantees as stipulated under Article 75 of Additional Protocol I to the Geneva Conventions.
Addameer calls upon the high contracting parties of the four Geneva Conventions to take serious steps and positive action to pressure the Israeli occupation to respect its obligations as an occupying power towards Palestinians as stipulated under the Fourth Geneva Convention and to release Mohammad Allan immediately and without any conditions.