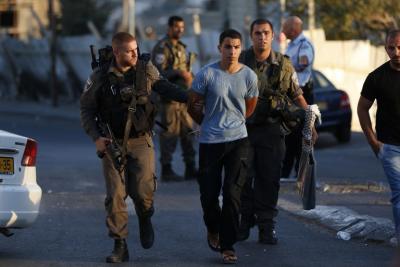 Ramallah - 3/11/2015 - In the aftermath of the recent events in the occupied Palestinian territory, Israeli occupation forces have arrested 1,195 Palestinians including 177 underage children during October. The arrests further included 16 women and 23 arrests of injured Palestinians.
The arrests took place as follows: 314 arrests were from occupied Jerusalem, 156 were from 1948 occupied territory, 111 were from Ramallah, 245 were from Hebron, 66 were from Jenin, 35 from Tulkarem, 98 from Nablus, 29 from Jericho, 87 from Bethlehem, 27 from Qalqilya, 18 from Salfi and 9 from Tubas.
Furthermore, among those arrested, 128 were placed under administrative detention including 31 over claims of "incitement" through social media 3 of whom were underage children.
Infographic of the arrests: