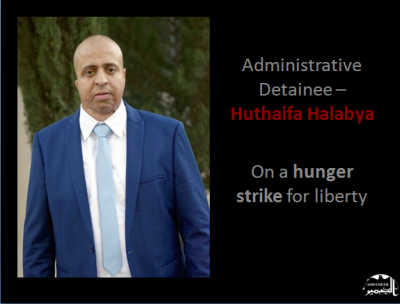 According to Addameer's lawyers, who visited hunger striker Huthayfa Halabiya in "Ramleh Prison Clinic" on day 38 of his hunger strike, Huthayfa is suffering from difficult health conditions and his health is progressively deteriorating. He vomits the water he drinks and continues to categorically reject any type of supplements including salt or sugar. He suffers from pain in his waist, shortness of breath and insomnia as he can only sleep continuously for ten minutes. He has noticed blood in his vomit and he spends his whole day in bed.
Halabiya reported that he was harassed and provoked by the nurses and prison guards in order to put pressure on him to end his strike. They told him "the prisoners in the other sections ate… break the strike and eat with them."
Addameer Association affirms that the striking prisoner Huthayfa Halabiya has entered a dangerous stage that puts his life at risk as he can no longer drink water. Addameer calls upon the International Committee of the Red Cross (ICRC) and the international community to intervene and to pressure the occupying power to release Huthayfa as well as hold the occupying authorities fully responsible for his life and well-being.
In addition, Addameer's lawyer was able to visit the two prisoners Mustafa Hassanat and Mohammed Abu Aker, who ended their hunger strike after 36 days. The prisoners reported that their pressure, pulse and blood were tested, and that they are still suffering from the effects of their hunger strike. They experience pain in their stomachs, and they drink tea and eat soup with difficulty. They reportedly had to be transferred to the security prisoners' section of the Ramleh Prison Clinic.