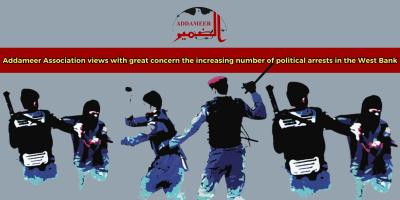 The Palestinian Security Forces (PSF) arrested approximately 65 Palestinians during the month of August, including 6 university students. During the last week of August, about 22 political arrests by the General Intelligence and Preventive Security agencies were recorded, 5 of whom were arrested after being summoned for questioning. Additionally, a female citizen was summoned for questioning, and an entire family was arrested in the city of Nablus.
These widespread arrest campaigns carried out by the PSF in various West Bank cities coincide with significant arrest and raid operations conducted by the occupying army in recent months in the West Bank. These arrest campaigns target released prisoners, university students, and elderly individuals and often involve excessive use of force and physical violence.
Among the political detainees in PSF prisons is Fadi Al-Bari (39 years old) from Ramallah. He was arrested on July 18, 2023, by the General Intelligence Agency and, despite several court orders for his release, the Agency refused to release him. Addameer Prisoner Support & Human Rights Association filed a petition to the Administrative Court, and on August 24, 2023, the court ordered his release. However, the General Intelligence Agency re-arrested him on the same night after summoning him to 'pick up his ID'. Al-Bari remains detained in General Intelligence Prisons to this day.
Addameer Association calls on the Palestinian Attorney General, Counselor Akram Al-Khatib, and the heads of the Palestinian security agencies to immediately release all political detainees who have been arrested on grounds related to their political affiliations and their involvement in student union activities. The Association also demands the cessation of the prosecution of university students and the respect and implementation of Palestinian judicial decisions without delay, in accordance with the obligations of the State of Palestine under international agreements and conventions it has signed.