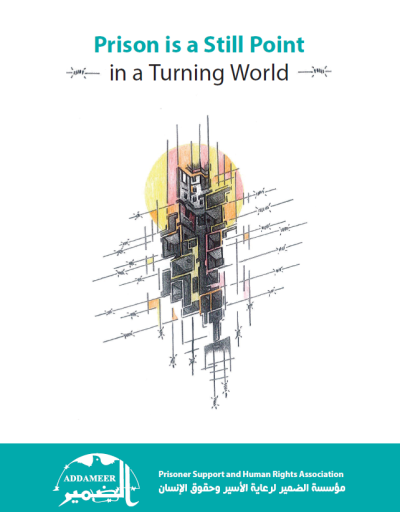 The Israeli occupation prisons are not places and spaces where freedom is deprived but rather a complex of monstrous machinery in form, laws, procedures, and policies. In fact, they are designed to liquidate and kill, just as weaponry would in the hands of the prison wardens, and just as the mindset that paints these landscapes sets out to do. On prison walls and throughout its extended yards, the struggle is at its height between the will to freedom and life the detainees stand for and the will to destroy that is nurtured by a system that brings all its resources and capabilities to bear to degrade human life.
In light of all the above, this paper shines a light on four prisons: Damon Prison, Naqab Desert (Ketziot), Eshel, and Ofer. It canvasses the conditions of each, from the cells that hold detainees and prisoners for long years, through the minutiae of their daily lives and their strenuous efforts to defeat their jailor, to the most exhilarating flashes of hope and the cruelest lows of despair that any prisoner might go through during their detention experience.
This paper mainly draws on interviews specifically conducted with prisoners who spent more than ten years in detention for the purpose of this paper. It also relies on an archive holding records of hundreds of visits conducted by Addameer to the occupation's prisons over the years. During these visits, Addameer documented various praxes the occupation uses against prisoners, the nature of the prisoners' daily life, and all the policies they face. At the same time, in an attempt to monitor any changes to the buildings or layouts of these facilities, Addameer used several aerial photographs of the aforementioned prisons. It is perhaps fitting to highlight that Addameer could only access limited quantities of fairly clear aerial photographs, as access to these images was restricted to a window between 2011 and 2016, either because of the poor quality of older images or due to security restrictions.