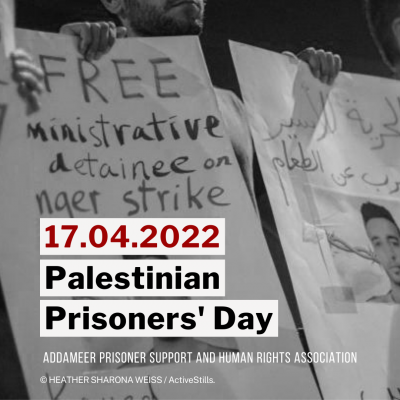 April 17 marks Palestinian Prisoner's Day, established by the Palestinian National Council in 1974 as a national tribute to honor the thousands of Palestinian prisoners arbitrarily held in Israeli occupation prisons and to support their legitimate right to freedom.
Since the beginning of 2022, Israeli Occupation Forces (IOF) have arrested over 2,140 Palestinians, the majority of whom were from the occupied Palestinian cities of Jerusalem and Jenin. Arrests escalated in Marchand with the beginning of the Holy month of Ramadan, reaching their peak on April 15, when IOF raided Al-Aqsa mosque during dawn prayer and carried out arbitrary mass arrests of over 450 Palestinians, including many children.
Alarmingly, the scale of attacks and arbitrary arrests in Jerusalem is reminiscent of Israeli attacks preceding the May 2021 Unity Uprising, which led to mass arrest campaigns and heightened violence across occupied Palestine.
Now more than ever, the international community must abide by its responsibilities under international law and uphold its legal and moral commitment to foster the protection of Palestinian human rights within the larger framework of the right to self-determination.