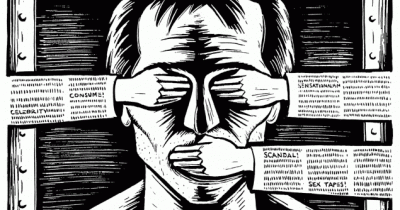 Silencing the Voices: Arrest and Detention of Palestinian Journalists
The UN Declaration on Human Rights Defenders defines human rights defenders as individuals who play an important role in furthering the cause of human rights through activities such as the documentation of violations, providing support and assistance to victims seeking remedies, combating cultures of impunity and mainstreaming human rights culture and information on an international and domestic level. Human Rights Defenders in the occupied Palestinian territory face various types of harassment and rights violations by the occupation forces, irrespective of the protection afforded to them in international conventions, and particularly the Declaration on the Right and Responsibility of Individuals, Groups and Organs of Society to Promote and Protect Universally Recognized Human Rights and Fundamental Freedoms. Since October 2015, the occupation forces intensified prosecution of human rights defenders in the occupied Palestinian territory, aiming to silence them and punish them for their role in exposing violations and crimes perpetrated against the Palestinian people.
The Israeli occupation forces arrested 8 Palestinian journalists since the beginning of 2016, bringing the number of journalists detained in Israeli jails to 21 journalists. These arrests and prosecutions reached dozens of correspondents, local cameramen, photographers, as well as members of the press, many of whom were detained under administrative detention orders; this includes Addameer colleague and Media Coordinator Hasan Safadi, who was arrested on 01/05/2016 while crossing Al-Karameh bridge and was placed under administrative detention, after 40 days of interrogation. Additionally, Omar Nazzal was also arrested while en route to participation in the European Federation of Journalists General Meeting on 23/04/2016. Mr. Nazzal was placed under administrative detention set to end on 22 August 2016. This shows how journalists are being targeted due to their efforts to document Israeli violations, including its practices of land confiscation, house demolitions and movement restrictions on the Palestinian population.
Addameer Prisoner Support and Human Rights Association condemns the continued and systematic targeting and arrests of journalists. Addameer considers journalists to be human rights defenders in accordance with the UN Declaration on Human Rights Defenders, which characterizes the following as activities of human rights defenders: (a) Collecting and disseminating information on violations; (b) investigating, gathering information regarding and report on human rights violations; (c) investigating and reporting on violations to help end ongoing violations. Thus, the persecution of journalists hinders dissemination of information on human rights violations currently taking place in occupied Palestine, and constitutes repression of press freedom as well as freedom of speech.    
Following is a table of journalists arrested by occupation forces until 20 June 2016: 
| | | | | |
| --- | --- | --- | --- | --- |
| Name | Place of Residence | Place of Work | Type of Arrest | Date of Arrest |
| Ahmad Fathi Khatib | Tulkarem | Photo in Al-Aqsa Channel | Administrative Detention | 04/07/2014 |
| Hammam Atili | Tulkarem | Media Student in Najah National University | Charges | 12/08/2014 |
| Ali Oweiwi | Hebron |   | Administrative Detention | 21/10/2015 |
| Mujahed Al-Sadi | Jeinen | Correspondent for Palestine Today TV | Detained | 12/01/2016 |
| Mohammed Mahmoud Issa | Jerusalem | Correspondent for Sawt Al-Haq Wal Hurriya | Life sentence | 1993 |
| Salah Addin Awwad | Nablus | Director  of the media department at Prisoners' Club | 7 years | 2011 |
| Anan Samir Ajawi | Jenin |   | 3 years and a half | 16/01/2013 |
| Ahmad Al-Saifi | Ramallah | Media Student at Birzeit University | 19 years | 19/08/2009 |
| Walid Khaled | Salfit | Director of Palestine Newspaper | 4 years | 10/03/2013 |
| Qutayba Qasem | Hebron | Correspondent for Asda'a Al-Sahafi | Detained | 10/12/2014 |
| Amir Abu Hleil | Hebron | Media Student at Al-Quds University | Detained   | 25/01/2015 |
| Mohammad Atta | Ramallah | Media Student at Al-Quds University | Detained | 27/01/2015 |
| Sami Al-Sa'ai | Tulkarem | Correspondent for Fajr Al-Mahali | Administrative Detention | 09/03/2016 |
| Samah Dweik | Jerusalem | Hurra | Detained | 10/04/2016 |
| Musab Qafisheh | Hebron | Media Student | Administrative Detention | 29/03/2016 |
| Omar Nazzal | Ramallah | Freelancer | Administrative Detention | 23/04/2016 |
| Hasan Safadi | Jerusalem | Addameer Media Coordinator | Administrative Detention | 01/05/2016 |
| Bassam Al-Sayeh | Nablus |   | Detained | 08/10/2015 |
| Adeeb Al-Atrash | Hebron | Freelancer | Detained | 20/06/2016 |
| Nasser Khaseb | Ramallah | Lecturer at Birzeit University | Detained | 20/06/2016 |