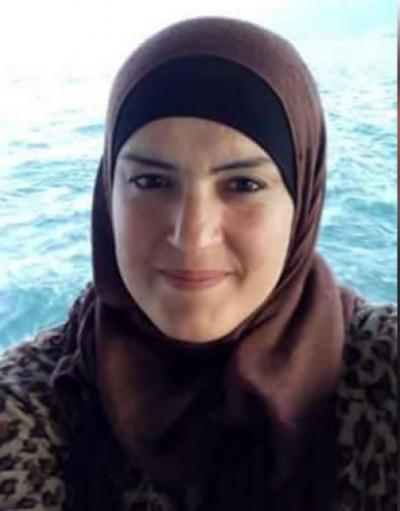 Name: Israa Riyad Jamil Ja'abees
Birthday: 22-7-1984
Arrest Date: 11-10-2015
Residency: Jabal Al-Mukabber – Jerusalem
Legal Condition: 11-year sentence
Social status: Married and a mother of one (8-year-old boy)
Last arrest:
On the 11 October 2015, Israa was on her way home to Jerusalem from her husband's family home in Jericho. She worked in Jerusalem daily due to poor economic status, and she used to bring back with her whatever her in-laws need for the home. That day she had in her car a gas tube which she used for cooking and also a TV.
When she came close to Al-Z'ayyem military checkpoint, the airbag in her car opened which caused a fire to start in the car. Israa told "Addameer"'s lawyer who visited her in Hasharon prison that "The car caught fire without me noticing, so I got out quickly, a police officer came to me with a raised weapon and started yelling at me to 'drop the knife' in Hebrew, I didn't have a knife. Another officer commanded the soldiers to open fire". "I stayed on the ground for around 15 minutes before the ambulance came." She added.
Israa was then taken to Hadassah EinKarem Hospital in Jerusalem, she lost consciousness due to severe pain from her burns. When she woke up, she saw a nurse and that's how she knew she was in a hospital.
Medical condition:
The fire resulted in her having first, second, and third-degree burns on 50% of her body, she lost 8 fingers, in addition to disfiguration in both her face and back.
Doctors did not give her any information about her condition at first, they only told her that she was okay and left. In the hospital, she only met with her lawyer, Tariq Barghouth, while handcuffed to the bed from her left arm and right leg. When the handcuffs were taken off of her arms, both her legs were kept bound to the bed. They also handcuffed her to the toilet when she needed to use it. She stayed in those circumstances for 2 and a half months, not knowing anything about her condition, or about what will happen to her.
Many surgeries were performed on her for her amputated fingers and for the restoration of burnt face and back skin. She is still in severe psychological disarray and shock, she still wakes up at night, shaking, and screaming "fire, fire, help me!" she also cries.
Transferring Israa' to the prison hospital:
Israa was transferred then to Al-Ramlah prison hospital (Marash), Prisoner Alyah Al-Abbasi was assigned to help her. She was put in a room in the male prisoner section, and she was allowed to have closed off and alone recreational time.
A doctor and some nurses would come to change the bandages for her burns, with a female officer at the door. This caused some clashes with the officers. They gave her one bottle of ointment for the burns to use on her whole body, which was not enough to cover all of the burns.
Security cameras were installed, which made Israa and Alyah feel at a loss for privacy. After a month of that, she was transferred to Hasharon female prison.
Transportation to and from the court:
Israa mentions that she left Hasharon to go to the Central Court in Jerusalem in a military car for transporting prisoners 'alBosta'. Officers in the car treated her terribly, confiscated her painkillers, and were continually cursing her out. Transportation would start at 2 AM, and since they keep on changing the used transportation car, she would arrive back at the prison at 12 AM the next day.
Arrest and trial:
Israa was arrested by the occupation's police on the 11 October 2015, many trials were held for her in the hospital due to her bad medical condition.  A list of charges was issued for her,  which contained the following clauses: Attempt to attach, and murder attempt by blowing up a gas tube. The military prosecution used some of her Facebook posts to reinforce their claims of "her having nationalistic motives for killing Israelis".
After a year of negotiations with the court, she was sentenced to 11 years in prison and a fee of 50,000 shekels, on 7-10-2016.
Family and work:
Israa is a second-year student in the Special Education course in Al-Ahliyya College in BeitHanina – Jerusalem, she worked for the Elderly home, next to her participation in entertainment activities held for Jerusalem's schools. She is married and has an 8-year-old son.
The occupation forces withdrew her medical insurance, forbade her from having family visits, and prevented her son from visiting her one time.
Her only son now lives with his grandmother and aunts in Jerusalem, after Israa's husband was in a car accident in Jericho that resulted in him having to be in wheelchair after.