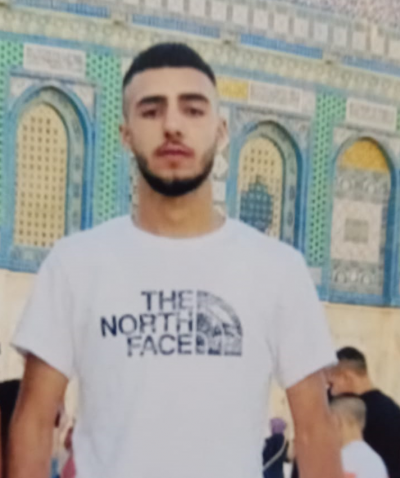 Name: Mohammad Natsheh
Date of Birth: 28 October 2003
Age: 18 years (arrested at 17 years)
Residence: Jerusalem (Silwan)
Marital Status: Single
Date of Arrest: 21 May 2021
Prison: Ramon Prison
Legal Status: Sentenced 14-months in prison
Arrest
Israeli Occupation Forces (IOF) arrested Mohammad Al-Natsheh, 17 years old at the time,  at 11 pm on 21 May 2021 on the street in Ras Al-Amud, Jerusalem. Upon his arrest, an IOF soldier jumped Mohammad from behind, pulling him to the other side of the street, then tied his hands to the back with plastic straps, blindfolding him with a mask, and took him to a military jeep where a soldier sat next to him and ordered him not to move at all. Mohammad was taken to a police station in Salah Al-Deen, then transferred to Al-Mascobiya Interrogation Center. As he was walking upstairs, an Israeli police officer hit him in the face, causing him to fall on the stairs and injure his shoulder and knee, yet he was left without the necessary medical treatment. The police officer forced Mohammad to sit on the ground without moving, threatening to be beaten if he moved. Mohammad sat on his knees, during which he was hit in the face and deliberately trampled on his toes, even as he had lost his shoes during his previous fall from the stairs. Mohammad remained in this position for over two hours before being transferred to a cell.
Interrogation in Al-Mascobiyah
Palestinian child detainee Mohammad was held in a freezing and filthy cell containing a small and thin mattress and strong lights that did not turn off. He was held in the cell for about 18 days, between rounds of interrogation.
Before being transferred to his first round of interrogation, Mohammad was taken to a dark room and was made to sit, untied, on a chair. Every time he moved to straighten his seat, an interrogator would scream at him. He was also hit on the face several times during the nearly hour and a half he spent in this room. He was transferred to the interrogation room, interrogated for hours, including eight continuous hours on his first day. During interrogation sessions, he was tied to the chair in the shabah stress position, with his hands and feet tied to the chair's back. The interrogators tried to pressure the child Mohammad in various ways to change his answers. The first time he was allowed to shower was a week following his detention, and he was not allowed to change his clothes even though his family went to Al-Mascobiyah to send clothes for him. Mohammad was also served poor food, where meals were not enough and extremely poor quality. 
Legal Status
Following Mohammad's harsh interrogation, the Israeli Public Prosecution submitted an indictment against him, including articles alleging the throwing of Molotov cocktails. On 9 November 2021, the Israeli District Court in occupied Jerusalem sentenced Mohammad to 14 months in prison and four months of prison suspended for two years.
Notably, Mohammad was arrested as a minor and imprisoned in Damon Prison in the juvenile section. After his verdict, he reached 18 years and was transferred to Ramon Prison to serve the remainder of his sentence.
The Israeli Occupation's Detention of Children and Physical and Psychological Torture
IOF continue to arrest Palestinian children and subject them to various types of torture and ill-treatment, with no consideration to the child's mental and physical condition, despite the signing of the Convention on the Rights of the Child (CRC) in 1991, which guarantees childrens' exceptional care, particularly their right to health, education, and integration into society.
By November 2021, the number of child detainees in Israeli occupation prisons reached 170, including four children in arbitrary administrative detention, without charge or trial. IOF arrested 66 children during the same month, including 54 from occupied Jerusalem. Since the beginning of 2021, IOF arrested 1149 Palestinian children, including six transferred to administrative detention, where they are held without charge or trial.
When arrested, Palestinian children are subjected to assault, beatings, and ill-treatment, including strip searches. The Bosta transports them under challenging conditions and subjected to various violations in interrogation centers, from the shabah stress position and sleep deprivation to insults and threats to arrest their parents, in an attempt to extract confessions under duress, illegally torture, and ill-treatment.
Palestinian child detainees are held in three prisons—Ofer, Damon, and Megiddo—in difficult living conditions, in which they are deprived of physical contact with their families, and family visits are the only means that enable them to communicate with their families through a separation glass and via a telephone set. Child detainees are also deprived of their right to education, wherein IOF removes them from their schools and classrooms and places them in prisons that are not commensurate with their right to normal development and interaction with family and society.
The framework of protection under International Humanitarian Law (IHL) stipulates necessary protections and care for children, allowing them to carry out physical and mental activities that contribute to their development, in addition to placing them in special detention centers and providing them with the necessary medical care, as they are a particular category that requires special care.
The Convention on the Rights of the Child states that detention of children should only be as a "last resort" and "for the shortest possible period" and that no child shall be deprived of their liberty arbitrarily and illegally. The convention stipulates that the child requires special protection and care due to their mental and physical immaturity, including appropriate legal protection. The Israeli occupation and apartheid regime routinely violate such protections, particularly during the administrative detention of Palestinian children for months without charge or trial. This is violated by Israeli occupation authorities who place child detainees in cells and prisons that lack minimum living conditions, in addition to subjecting them to trial in military courts that lack any fair trial guarantees. 
Child Ages Prematurely
Palestinian child detainee Mohammad is the eldest of his four brothers in a family of six, where he works in construction. Mohammad was first arrested several days before the aforementioned arrest on claims that he possessed a knife but was later released. Still, his current trial includes this allegation. While Mohammad should be growing up naturally among his family, friends, and community, he faces an integrated oppressive system that seeks to suppress him from the moment of his arrest. Beginning with his ill-treatment during interrogation and continuing to his 14-month sentence in prisons that deprive him of his most basic rights as a human, first, and child, second.