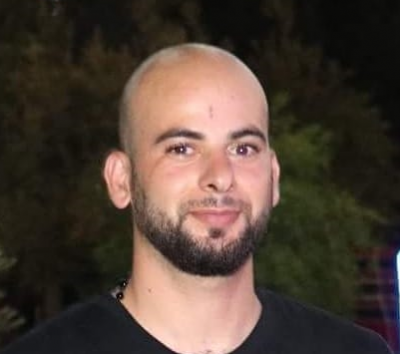 Name: Ghassan Husam Hasan Karaja
Date of Birth: 3 March 1990
Age: 30 Years Old
Address: Saffa – Ramallah   
Marital Status: Married
Profession: Sales Representative
Date of Arrest: 4 March 2021
Prison: Ofer
Legal Status: Under-Trial 
Ghassan was detained for the fourth time on 4 March 2021, after the Israeli Occupying Forces stormed his home in the village of Safa at dawn, less than seven months after his release from his previous arrest. He was transferred to Etzion detention center, where he was quarantined in poor conditions, before he was then transferred to Ofer prison.
On 7 March 2021, Ofer military court extended his detention to 11 March 2021 for the military prosecutor to submit a final list of charges against him. In this session, there was only charge against Ghassan relating to the possession of flags and paraphernalia belonging to an organization deemed unlawful by Israeli military orders.
Ghassan is currently detained in Ofer prison awaiting trial.
Detention History:
In 2012, Karaja was first arrested, charged on an indictment for, amongst others, planning 'military activities'. He was sentenced 24-month imprisonment in addition to 12 months suspended for a five-year period and NIS 5,000 fine. In 2017, Karaja was re-arrested under a six-month administrative detention order which was extended by another six months on the grounds that he was an active member of the Popular Front for the Liberation of Palestine (PFLP). Karaja was released after one-year of arbitrary detention based on a secret file – neither the detainee nor his lawyer may access.
In less than two months after his release, Karaja was arrested for the third time on 1 September 2018 as he makes his way from his hometown Saffa to Ramallah. An Israeli military checkpoint was particularly set up for his arrest. Having his car searched and mobile confiscated, Karaja was transferred by a military jeep to a military compound, and thence into the Al Moscobiyeh Interrogation Centre. At the interrogation centre, Karaja was interrogated and subjected to physical and mental torture and ill-treatment for about 55 days.
Once Karaja arrived at Al Moscobiyeh, the interrogation was set in motion and lasted for eight days, during which his hands and feet were cuffed all the time. Over a week later, the interrogation turned military. Karaja was slapped and forced into various stress positions. He was seated on a backless stool, his arms and legs cuffed while an interrogator forcing him to lean back at 45 degrees. Every time he could not endure and fell, he was forced into the same posture. Handcuffed, Karaja was forced into another stress position against the wall with his knees bent at a 90-degree posture. This torment tactic caused him severe pain in the thighs. Moreover, when he fell, he was beaten right on his thighs. Meanwhile, Karaja was subject to screaming, cursing, and threatening that he would not make it out of the interrogation but with a physical disability. The torture left Karaja with considerable pain in the back and feet.
Legal Status
The Israeli occupation authorities denied Karaja his right to consult with his lawyer for about 35 days during the interrogation, committing a blatant violation of his right to early access to legal aid, especially amid interrogation.
The Israeli occupation authorities charged Karaja with an indictment for, amongst others, planning 'military activities' in addition to his membership of the PFLP – a Palestinian party that is declared as an unlawful association based on the Israeli military orders. In execution of the charge, Karaja was held 14-month imprisonment. Besides, a previous suspended six-month imprisonment was brought into force along with a NIS-3,000 fine.
As the 20-month imprisonment was approaching to an end and Karaja was all in the saddle to embrace freedom, the regional military commander issued a new administrative detention order, extending his incarceration another five months under the pretext that Karaja poses a future risk if released. At the confirmation hearing, the military judge attended to 'secret files' to establish the future gravity of release. Underlining that the detainee is an active member of the PFLP, the judge stated that the intelligence service information presented before him exceeded the grounds upon which Karaja was first charged. Accordingly, the detention extension sentence was sustained.
Administrative Detention as a Perpetual 'Punishment' 
The case of Karaja is neither the first nor the last of its kind, where the Israeli occupation authorities issue another administrative detention order against a detainee who completed their imprisonment period.[1]Such a motion is often taken in an effort to hold a detainee for the most extended period possible under the pretext of a 'secret file', neither the detainee nor their lawyers may access. The administrative detention of Karaja is part and parcel of the punishment imposed upon him to be held for 20 months at the Israeli occupation prisons. Taking due account of the extended detention period, the claims of a future risk stand baseless.
The use of administrative detention in such modus operandi demonstrates the abuse of power by the Israeli occupation authorities. It is used as a punishment rather than a deterrent to future risk. It might also fall under the umbrella of mental tantalisation, given that the detainee would be all inclined to enjoy his freedom after a long period of incarceration. And all of a sudden, their dreams of freedom are shattered by an arbitrary administrative detention order.  
The case of Karaja further exemplifies the Israeli occupation authorities' arbitrary interpretation of the Israeli High Court Ruling of 1999, which, of note, did not provide an absolute prohibition of torture. Although the ruling claims that the Israeli law has no tolerance for torture, it left a critical loophole that leaves the door ajar to the Israeli intelligence service to inflict systematic torture without accountability. Using this gap, the interrogator may claim that they had to use 'special techniques' in 'ticking time bomb' cases. Thus, they can be protected by 'the necessity defence' in the face of any legal prosecution or criminal responsibility
The harsh interrogation Karaja endured after over a week of his arrest violates the absolute prohibition of torture under international law and many conventions, particularly the Convention against Torture and Other Cruel, Inhuman or Degrading Treatment or Punishment (CAT). Of note, Israel, the Occupying Power, ratified the CAT in 1991, which emphasised the prohibition of torture in all forms. Therefore, Israel should be held accountable for all the torture methods and tactics used against Karaja and many other Palestinian political prisoners.
Karaja lost his job due to the abovementioned circumstances and his last arrest.
---
[1] For more information: The Administrative Detention Wild Card: A secret file hunting the Palestinian https://bit.ly/3j7RLzy
Prisoner Fidaa Da'mas' profile:  https://bit.ly/2DKt4Jv