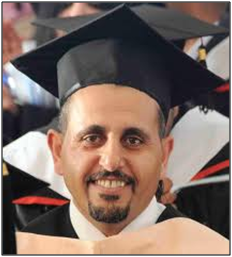 Name: Waleed Muhammad Hamdan Hanatsha
Date of Arrest: 3 October 2019
Residence: Ramallah
Marital Status: Married Prison: Rimonim Prison
Occupation: Finance and Administration Director at the UHWC
Education: MA in Public Health and an MA in Economics
Legal Status: Under-Trial Detainee
Detention History
Waleed Hanatsha was arrested four times before his current detainment. He was first arrested in 1994 and put under interrogation for 30 days before he was released. Hanatsha was first administratively detained on 18 May 2002, after which he spent three and a half years under administrative detention before being released on 21 December 2005. He was arrested for the third time on 12 January 2009 and released on 10 January 2010. On 22 November 2020, Hanatsha was arrested for the fourth time and sentenced to six months of administrative detention.
Current Detention
On 3 October 2019, Israeli Occupation Forces (IOF) broke into Hanatsha's house late at night, overturned everything inside the house, and terrorized his family. The IOF beat Hanatsha and then transferred him to Al-Moskobiyeh Detention and Interrogation Centre in Jerusalem where he was subject to 60 days of interrogation.
Torture Under Interrogation
The IOF put Hanatsha under military interrogation as soon as he arrived to Al-Moskobiyeh Detention and Interrogation Centre. He visited the clinic for blood pressure and pulse rate check before his first round of interrogation. Israeli interrogators took turns questioning Hanatsha and each round of interrogation lasted for eight consecutive hours. Hanatsha had to visit the clinic daily to get the doctor's confirmation that he was still fit to undergo military interrogation. Despite the pain and aches all over his body and the livid bruises on his skin, the doctor always confirmed that the test results were good enough for Hanatsha to endure more interrogation.
Hanatsha was harshly beaten on the face and legs causing him to collapse multiple times only to be forced upright and beaten again. Moreover, he was beaten on the face while blindfolded. The interrogators harshly beat Hanatsha on the chest using their fingertips. They also kicked his legs using their knees and boots. The interrogation was punctuated by many stress positions, including a posture where Hanatsha's hands were tied behind his back and chained to a table behind him. The chain binding his hands to the table was continuously shortened to put pressure on the shoulders. The interrogators forced Hanatsha to sit on a stool, making sure his body stayed in place while an interrogator sat on Hanatsha's knees and pushed his chest backwards to put even more pressure on the shoulders. Another interrogator would pull on Hanatsha's arms while two others forcefully grabbed his face and jostled him around using his neck and jaw.
The interrogators devised another stress position against the detainee. They tied his hands behind his back, forcing him to stand with his back against the wall and his knees bent at a 45-degree angle. Two interrogators stood on each side and push on his shoulders to make sure he stayed in that posture. In another position, Hanatsha was forced to lie on his back on the ground with his hands tied behind his back. One interrogator sat on his chest, dug his knees into Hanatsha's shoulders, forcefully grabbed the collar of the detainee's shirt, and start shaking and choking him. Another interrogator sat on Hanatsha's knees to immobilise him completely as other interrogators gathered in a half-circle above his head to shout and swear at him. Sometimes, two of them tugged at his face and move it backwards or to the sides.
Moreover, Hanatsha was forced into the banana stress position. His legs bound to the chair, he had to sit on the chair sideways. His hands were shackled to the underside of the chair and then the interrogators would push his chest backwards until his body forms an arch. Holding this body for prolonged periods in this angle caused great damage and pain in the abdominal muscles. Whenever the detainee collapsed, the blanket on the floor or the knees of the interrogator sitting behind him caught his fall.
In all these stress positions, Hanatsha would often fall unconscious and the interrogators would splash his face with water to keep him conscious. The interrogators also used their hands to rip the hair on Hanatsha's scalp and beard bruising his neck and forehead, causing him to bleed.
Hanatsha spent 12 days from the beginning of his arrest under military interrogation with no resting periods. The only reprieve he had was during his mealtimes, which he still had to eat in the interrogation chamber and not in a cell. Hanatsha was put under military interrogation two more times after the first round. During that time, he could not stand on his own feet and had to be moved between the rooms of the interrogation centre or to the court using a wheelchair. Even after the end of the military interrogation, Hanatsha was still questioned for hours on end.
The physical torture that Hanatsha endured left lasting scars and bruises all over his body. To this day, Hanatsha still feels agonizing pain in his legs and suffers the effects of the brutal torture he endured over the course of 63 days on his body.
In addition, Israeli interrogators tormented Hanatsha mentally by threatening to arrest his family members and to demolish his house. After calling in Mays Hanatsha, the detainee's daughter, for an interview at Ofer Prison, she was arrested and transferred to Al-Moskobiyeh Detention and Interrogation Centre where she was held for three days. During her incarceration, Israeli interrogators made sure that Hanatsha could see his daughter in the interrogation chamber to drain his will.
Addameer for Prisoner Support and Human Rights Association managed to obtain photographs that document the signs of torture and bruises on Hanatsha's body after his lawyer filed a request to the military judge for a check on Hanatsha's health status. After the military judge observed the signs of torture on the detainee's body, he ordered taking photographs of the effects of torture to be presented at court. After the photographs were taken, Hanatsha's lawyer was able to obtain these copies.
"I visited the military court for the first time after Waleed's detainment. As soon as I entered the hall at Ofer, I looked around for him. I couldn't recognize him at first glance because of how much his features have changed after the brutal torture he endured… ten seconds, and then I heard his voice calling to me 'Bayan… I'm here".
Bayan Hanatsha, wife of detainee Waleed Hanatsha
Legal Status
Right after his detainment, an order banning Hanatsha from meeting with his lawyer was issued and renewed multiple times by the Israeli interrogators and the head of the interrogation centre at Al-Moskobiyeh. After 30 days of such isolation, the military judge issued more orders against Hanatsha making the total of days he spent without a visit from his lawyer reach 45 days. Addameer lawyers filed two petitions to the Israeli High Court against these orders but were dismissed both times.
His lawyers also lodged many appeals against the extension of Hanatsha's detention, but they were all overruled. The dismissal of all the petitions and appeals that were lodged by Addameer lawyers shows the complementary roles of the interrogators and judges in covering up the Israeli violations against Hanatsha. The detainee was brutally tortured without being allowed to meet with his lawyer who would have documented the effects of torture. Even though the military judges had full knowledge of Hanatsha's health status and could observe the physical signs of torture on his body, they were still adamant in their dismissal of the appeals.
On 12 December 2019, the Israeli Occupation Authorities brought charges against Hanatsha that include planning and participation in military operations. Hanatsha is still detained awaiting his trial.
Family and House Demolition
Hanatsha and Bayan got married in 1994, and they have two daughters— Mays 23 and Malak 12 . Hanatsha's constant detainment deprived the family of sharing their most cherished moments together. His current arrest was the hardest on the family who had to endure the radio silence for 45 days before Hanatsha's lawyers were allowed contact with him. Seeing the photographs documenting the effects of torture and beating on Hanatsha's body took a huge toll on the family. Then, the family received the Israeli authorities' order to demolish their house. Despite the family's protests against the order, the Israeli occupation authorities dismissed all protests and proceeded with the order. On 5 March 2020, the Israeli occupation authorities demolished the walls of the family house in al-Tira neighbourhood using iron hammers.
"You're always bound to lose something in life, but losing the home you lived for your whole life means losing all the memories, laughter, tears, and each joy and sorrow you have ever experienced there" 
Malak Hanatsha, 12 years old (Daughter of detainee Waleed Hanatsha)