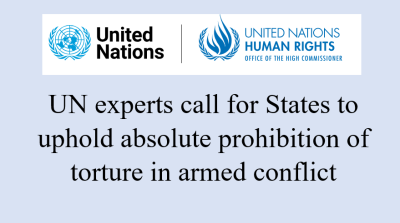 International Day in Support of Victims of Torture
26 June 2023
Torture and other grave human rights violations continue to be widely reported across many armed conflicts. Today, more than 100 armed conflicts are ongoing worldwide*, devastating communities, winding back development, and posing severe obstacles to the protection and enjoyment of human rights.
On this International Day in Support of Victims of Torture, the UN anti-torture mechanisms call on States to uphold the absolute prohibition of torture. The UN human rights experts remind all participants in conflict that the protections of international human rights law do not cease to be applicable in situations of conflict.
The prohibition against torture is a jus cogens norm of international law, a fundamental principle that applies at all times and in all circumstances. This applies to all parties to a conflict. The pervasive character of this norm is illustrated by the explicit prohibition of torture, not only as referenced in the Convention against Torture and Other Cruel, Inhuman or Degrading Treatment or Punishment and established in other international and regional human rights treaties, but also under international humanitarian law and international criminal law.
"The Committee regularly reminds States of their obligations under the Convention to ensure that education and information regarding the prohibition against torture are fully included in the training of military personnel, especially those charged with duties related to detention. States must take a zero-tolerance approach in investigating and prosecuting acts of torture committed by their regular armed forces, and those forces under their effective control," said Claude Heller, Chairperson of the Committee against Torture. "A vital first step in this is the explicit criminalisation of torture at the domestic level."
States who have ratified the Optional Protocol to the Convention against Torture (OPCAT) are required to establish National Preventive Mechanisms (NPMs), which are mandated to conduct visits to places of deprivation of liberty to prevent practices and procedures that present a risk of acts of torture being committed. In countries that have not ratified the OPCAT and have no NPMs, national human rights institutions or other monitoring bodies can frequently take on this role.
Suzanne Jabbour, Chairperson of the Subcommittee on Prevention of Torture, urged States to "ensure that, also in situations of armed conflict, all possible measures are taken to allow NPMs and other detention monitoring bodies continued access and monitoring to all places of deprivation of liberty." Jabbour also called on non-State actors to facilitate similar access, stressing that "the prevention of torture is a must in all circumstances and in the interest of all parties to a conflict."
Armed conflict poses significant challenges to the rule of law and the functioning of State institutions. Continued monitoring and documentation of acts of torture during armed conflict is essential to ensure effective investigations and prosecutions.
"War and civil conflicts can provide cover for torturers to behave with impunity", said Alice Jill Edwards, the Special Rapporteur on Torture. "Today I am cautioning States and individuals that the use of torture is completely unacceptable and prohibited. Perpetrators must be held to account. Soldiers have a special duty to disobey orders to carry out torture or other ill-treatment and States must establish laws to protect them against prosecution for doing so. Everyone must stand up to torturers and those who condone it."
The United Nations Voluntary Fund for Victims of Torture, which gives direct help to victims of torture and their families, underlined the disastrous effects of war on civilians, and the impact that torture has on the lives of victims. Lawrence Mute, Chairperson of the Board of Trustees of the UN Voluntary Fund for Victims of Torture, expressed his concerns that the needs of survivors are often overlooked during armed conflict and transitional justice processes. "States must do their utmost to ensure speedy access to rehabilitative services for victims of torture, including medical, psychological, legal, social and humanitarian assistances. During armed conflict, State services are prone to deteriorate, at a time when victims need them most. This is especially the case for specialised services for victims of torture subjected to discrimination or in more vulnerable situations, such as people with disabilities and members of minority communities, including national or ethnic, racial, indigenous, religious, sexual and gender minorities," he said.
There is no better day than 26 June, the anniversary of the entry into force of the UN Convention against Torture and Other Cruel, Inhuman or Degrading Treatment or Punishment, to remind States that their obligations in this area must be upheld every day in every context.
The prevention, investigation and prosecution of torture, along with the provision of adequate redress, relief and rehabilitation to victims, must be persistent endeavour; no situation, including armed conflict, should stand in its way.
ENDS