Director of Addameer Adv. Sahar Francis participates in Panel and meets Pope Francis at the Third World Meeting of Popular Movements at the Vatican (4-5 November 2016)
Director Sahar Francis met Pope Francis at Third World Meeting of Popular Movements at the Vatican on 5 November 2016. On 04 November, she was featured in a panel which focused on "Displaced Persons and Refugees", and addressed the law and respect to a dignified life is essential for individuals. On the third day of the workshop, the speakers mentioned the tragedy of two new shipwrecks in the Mediterranean, which resulted in the loss of the lives of more than two hundred people.
On this occasion, delegates heard interventions from Carlos Marentes, Project Border Agricultural Workers (US-Mexico); Nursel Kilic, the Kurdish Women Movement (Kurdistan-Eurasia); Sahar Francis, Director of Addameer and Board member of the Union of Agricultural Working Committees (Palestine); and Moustafa Nadao Manteros, the People's Union of Barcelona. In coordination, the event also featured Julia Lis, Welcome Refugees (Germany) and Archbishop Silvano Tomasi, the Pontifical Council for Justice and Peace.
During her talk, Sahar Francis underlined that without peace based on justice, recognizing all basic rights of the Palestinian people, there will not be peace in the Middle East. She spoke about the continued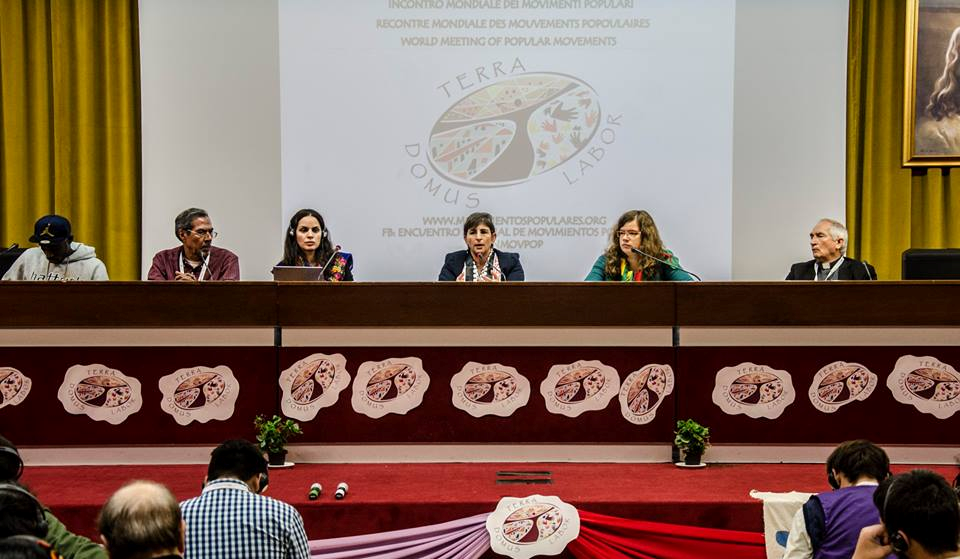 colonization of Palestinian land, which has continued even after 1967, through a set of various policies targeting Palestinians. Inside the Israeli state, these include the demolition of villages in 1948 and effective ethnic cleansing, through lack of recognition of Palestinian villages and the policy of declaring Palestinians "present absentees" in their own land. She also addressed the policy of land confiscation and house demolitions, and in particular mentioned the Palestinian village of Araqeeb, which was demolished 99 times. She spoke about the policy of obstructing family reunification through discriminatory laws.
Referring to the occupied territories, she stated that 70% of Gaza's population, are refugees, some of which were made refugees to expand buffer zones. She also addressed continued settlement expansion in the occupied West Bank, the illegal Annexation Wall, continued control over agriculture and water, and the separation of farmers from their land. She also addressed the continued presence of military checkpoints and of bypass roads for settlers. Francis also highlighted that in Jerusalem, Palestinians suffer from a policy that prevents family reunification, high taxation, and continued threat of loss of residency rights. Sahar Francis addressed the deportation of prisoners outside the country or to Gaza, and the policy of illegal transfers of Palestinian detainees from the occupied territory to the occupying state.
Pope Francis has spent time with  prisoners and has called concern for prisoners "a moral imperative for the whole society".  The Pope celebrated Holy Thursday Mass in detention in 2013 in a juvenile prison, in 2014 he visited prisoners in Calabria and Isernia, in 2015 he visited Rebibbia prison in Rome. He also visited Philadelphia detention center in the US and Ciudad Juarez prison in Mexico. In a letter to the Pope Francis, Director Sahar Francis asked him to visit Palestinian political prisoners in Israeli detention, where they are subjected to torture, ill treatment, medical neglect, and inhumane conditions.