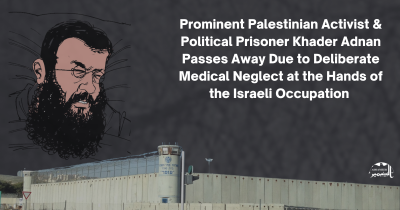 The Palestinian Human Rights Organizations Council (PHROC) condemns the calculated and cold-blooded slow-killing of 45-year-old Khader Adnan—father, husband, Palestinian activist, and former prisoner—by the Israeli occupying authorities in the early hours of Tuesday, May 2, 2023. Khader was a reputed, revered, and resilient resistance actor within the Palestinian Prisoners' Movement, whose political reach ran far beyond the four walls of his prison cell and deep into Palestinian civil society. Khader was on the 86th day of his fifth hunger strike against his recent arbitrary arrest and detention by the occupation forces on February 5, 2023. The Israeli Prison Service (IPS), who was holding Khader in solitary confinement, refused his family visitation rights, right up to his death. Khader is survived by his wife, Randa Musa, and nine children. PHROC joins the Adnan family in mourning and condemning the martyrdom of Khader, and continues to pledge its unwavering commitment to resisting the structures of Israeli colonialism, occupation, and apartheid— that directly bears the responsibility of Khader's passing, and many Palestinians like him.
The IPS's sustained and purposive practice of medical neglect, including the denial of hospital care to Khader despite a medical emergency, and withholding his visitation rights, as well as the international community's routine failure to prosecute atrocity crimes committed against Palestinians, constitute a grave and systemic breach of the Geneva Conventions, which is directly responsible for Khader's death. This grave violation of the right to life and wilful killing also stands in line with the racist law being deliberated at the Israeli Knesset that aims to reinstitute the death penalty for Palestinian prisoners who are deemed a "security threat" to the maintenance of the Israeli occupation. Thus, PHROC views the killing of Khader Adnan as a premeditated murder by the state of Israel.
During his life, Khader had been repeatedly arbitrarily arrested and administratively detained by the Israeli occupation forces 12 times, subjecting him to more than 8 years of captivity in occupation prisons, often without charge or trial. In other words, Khader has spent nearly a fifth of his life behind bars. Khader embraced the colonial prison as a platform for further protest, using the non-violent tactic of hunger strikes to draw international attention and stoke sympathy for the plight of Palestinian prisoners. The denial of medical aid to Khader was a direct attempt to silence his powerful, unrestrained, and fearless political voice. Thus, they routinely attempted to silence him through unlawful and unjustifiable forms of reprisal. These included collective punishment—home raids, assault of family members, and destruction of personal property and valuables—as well as arbitrary arrests on unfounded charges, unfair trials, and inhumane, medically negligent conditions of detention.
His recent arbitrary arrest, in February of this year, was on such a spurious, manufactured charge of incitement of terror. During his unlawful arrest, the Israeli occupation forces also raided and vandalized Khader's family home in the town of Arraba, on the outskirts of the occupied city of Jenin in the West Bank, and terrorized his family members. Khader, who is no stranger to different forms of nonviolent civil disobedience, responded by immediately going on an open and indefinite hunger strike.
In his lifetime, Khader carried out six hunger strikes against the Israeli occupation, of which four were explicitly against Israel's arbitrary administrative detentions. Addameer has stood firm by the Adnan family since Khader's first protest in 2004, which lasted 25 days, and popularized hunger strikes among Palestinian prisoners as an accessible means of resistance within the military prison system. Khader's second hunger strike in 2012, lasting 66 days, was joined by hundreds of prisoners, supported by thousands of Palestinians outside of prisons, and triggered an international movement for the freedom of Palestinian prisoners. In 2015, he went on his third hunger strike for 56 days against another administrative detention. In 2017, Khader was again arrested and went on a 58-day hunger strike. His final 25-day-long hunger strike was directed at his penultimate arrest in 2021. As a political activist, Khader has long understood the significance of hunger strikes as a tool for fostering transnational, intersectional solidarity with political prisoners across the globe. Khader has stood with Californian prisoners on hunger strike who were protesting the degrading practice of solitary confinement in 2013. On the other hand, Irish prisoners have stood by Khader in solidarity during his hunger strikes.
Khader's recent hunger strike was also directed at the inhumane conditions of imprisonment within Israeli prisons. After Khader began his hunger strike in February, the IPS retaliated against him by isolating him in detention. Isolation orders against Khader were renewed every two weeks without any review.  Further, Khader was held isolated in a cockroach-infested cell and regularly reported accounts of physical assault and abuse by Israeli Prison Services to his lawyers. During his recent incarceration, Khader was already at a heightened risk of heart attack and organ failure, because of his past hunger strikes, which had led him to the precipice of death several times. Yet, the IPS refused to transfer him to a hospital in April, after he became seriously ill, despite him needing urgent medical care.
In spite of Khader's medical condition, and the lack of evidence to put him through trial, Israeli military judges continued to delay his hearings. Following the request by the Israeli military prosecutor, Salem military court summarily extended Khader's detention order twice in March to allow the occupying forces to concoct a charge sheet against him based on past testimonies. Finally, last Sunday, April 23, Salem military court heard a plea for bail for Khader; the presiding military judge denied him bail prompting Khader's lawyer to appeal the decision. The appeal hearing was scheduled for Thursday, 27 April. At first, the military judge of appeal in Ofer military court postponed the decision to 3:30 PM on Thursday, and then later announced an arbitrary postponement till Monday, May 1. On May 1, yesterday, the military court judge of appeal postponed the hearing for another 10 days.
Khader was found unconscious in his isolation cell in Ramleh prison clinic in the early hours of this morning, May 2, and later pronounced 'not living' upon arrival at the Asaf Harofeh Israeli hospital. Employing deliberate policies of medical neglect, indefinite and unreviewed extensions of isolation and detention orders, and the mockery that was his prolonged bail hearing, Israeli occupation authorities have foreseen Khader's death and did not take any necessary measures to avoid it, as they have done with the 233 Palestinian political prisoners similarly killed behind Israeli bars. It is clear that the occupation authorities bear sole and direct responsibility for acts amounting to torture, inhumane and degrading treatment and punishment; and criminal medical negligence amounting to willful killing; and an inhuman act of apartheid.
It is important to note that Addameer and several other Palestinian and international human rights organizations had spared no effort in raising Khader Adnan's critical case to the ears of the international community. In early April, Addameer sent an urgent appeal to the United Nations special procedures mechanisms, including UN Special Rapporteurs Ms. Francesca Albanese, Dr. Miriam Estrada-Castillo, Ms. Tlaleng Mofokeng, Dr. Alice Jill Edwards, and Mr. Obiora C. Okafor, highlighting Khader's dire medical condition and the need for his urgent humanitarian release. At the 52nd session of the Human Rights Council, Addameer reiterated the facts of Khader's case. We reminded the global community of the former Special Rapporteur Dr. Richard Falk's claim that Israel's repeated administrative detentions of Khader Adnan amounted to war crimes and could be prosecuted using universal jurisdiction.
As Palestinian prisoners pass away in captivity, Israel illegally withholds their bodies in freezers, denying their families the right to burial, citing security concerns. Israel is currently in possession of the bodies of 13 such prisoners who have been killed in captivity since 1967. Our organizations have repeatedly warned the international community of the possibility that such a fate may befall Khader Adnan despite the fabricated grounds for his arrest. In fact, the continuous postponement of Khader's bail hearings affirmed our fears—it was clear even to the military court judge who pushed the hearings that the accusations against Khader were not admissible in a court of law—even an occupied one. It was, therefore, easier for the Israeli occupation to weaponize the strategies of unfair trial and medical neglect, and wait for Khader's slow death inside the prison than to indict him for false crimes. To watch our warnings translate into reality once again, because of the apathy of the international community, at the expense of a valued and cherished Palestinian life, is disheartening, disillusioning, and enraging. Their failure to intervene amplifies past evidence that international law is a tool for the colonizer—not the colonized, that international institutions are complicit and that the international community aids and abets Israeli war crimes. Its deafening silence today, as Palestine mourns Khader's forced execution, rings louder than all its hollow words.
PHROC calls upon the international community to realize its moral and legal responsibilities towards the Palestinian people, especially Palestinian political prisoners captive within illegal occupation prisons. It is high time for the international community to confront its double standards on Palestine, to acknowledge the immunity that its silence has long extended to the perpetrators of crimes against humanity and war crimes in Palestine. PHROC also demands that the high contracting parties to the Fourth Geneva Convention intervene immediately to ensure that the Occupying Power abides by its provisions. The international community must hold Israel accountable for the structural violence undertaken by the Israeli Prison Service against Palestinian prisoners and detainees, demand an immediate end to the widespread and systematic administrative detention of Palestinians amounting to apartheid, and demand the release of all Palestinian political prisoners. PHROC also calls upon the UN-appointed Commission of Inquiry and the International Criminal Court Office of the Prosecutor to hold an immediate investigation and hold Israel accountable for the arbitrary arrest, criminal medical neglect, and killing of Khader Adnan. Similar investigations must also be launched to hold accountable all Israeli persons who perpetrate crimes against Palestinian civilians, including the 234 Palestinian detainees martyred in Israeli prisons.