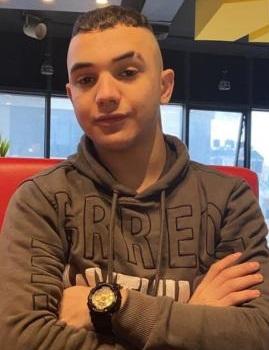 On 18 January 2022, Ofer military court postponed the confirmation hearing for Amal Nakhleh's administrative detention renewal order following a letter from Amal emphasizing the illegitimacy of Israeli military courts and announcing his boycott of Israeli military judicial procedures. Amal was a child, 17 years old, when he was re-arrested by Israeli Occupation Forces (IOF) from his home in Al-Jalazon Refugee Camp on 21 January 2021. Since then, he continues to be held under administrative detention, without charge or trial, despite his age, and more seriously, the precarity of his health condition.
The Israeli military commander issued the renewal of Amal Nakhleh's administrative detention order on 13 January 2022 for an additional four months, representing the third renewal and fourth term of his administrative detention order since his arrest on 21 January 2021. During the confirmation hearing on 18 January 2022, both Amal and his legal counsel were not present, due to Amal's participation in the collective boycott of Palestinian administrative detainees against Israeli military courts, in protest of the Israeli occupation's policy of administrative detention.
The boycott, first announced on 20 December 2021 by all 500 Palestinian administrative detainees, commenced 1 January 2022, under the campaign 'Our Decision is Freedom… No to Administrative Detention.' The comprehensive boycott includes Israeli military courts at all levels, including courts of first instance, appellate courts, and the Israeli civil High Court. Accordingly, Palestinian administrative detainees refuse to participate in court procedures and hearings; their legal counsel will no longer attend or participate in the court procedures on their behalf. Notwithstanding his continued and egregious arbitrary administrative detention and health conditions, Amal Nakhleh joined the collective boycott. Consequently, Amal will be tried in absentia.
Amal Nakhleh suffers from myasthenia gravis, a rare neuromuscular disorder causing weakness in the skeletal muscles, which requires specialized medical care, regular medication, and constant monitoring of symptoms to avoid further health complications. Amal was previously arrested by IOF and later released after 40 days of incarceration on 10 December 2020 due to his young age and physical and psychological health. Still, less than two months after, IOF raided Amal's home, re-arresting him and placing him under administrative detention due to "secret material," alleging he poses a "security risk to the region." According to medical reports, Amal has since faced new compounding health concerns requiring medical attention.
The severity of his detention, as a child detainee suffering from a multitude of health conditions, further compounded by the COVID-19 pandemic, led UN Human Rights experts and Special Rapporteurs to issue a communiqué on 25 February 2021 by expressing concern for Amal's administrative detention and urging "all necessary interim measures be taken to halt the alleged violations and prevent their re-occurrence…[and] to ensure the accountability of any person responsible."
The possible confirmation of the renewed administrative detention order against Palestinian child Amal Nakhleh, despite the gaping inconsistencies, and lack thereof, in the purported "secret" evidence submitted by the military prosecution, and more still in absentia point to the complicity of the Israeli military judicial system in the Israeli occupation and apartheid regime. Amal Nakhleh's case highlights the Israeli apartheid regime's systematic targeting of Palestinian children, demonstrating that no one is exempt from Israel's arbitrary policy of administrative detention and deliberate medical neglect, not even vulnerable Palestinian children or when grave health conditions emerge.