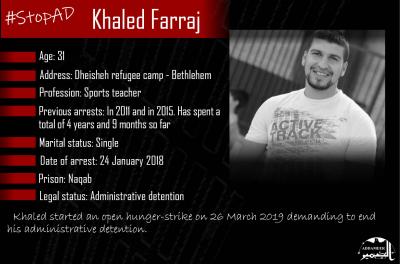 Addameer - Ramallah: Palestinian prisoner Khaled Farraj, 31 years old, from Dheisheh refugee camp, continues his hunger strike for the 29th day in a row, demanding an end to his administrative detention as his health deteriorates. Khaled Farraj began his open hunger strike on March 26th, joining Hossam Ruzza and Mohammad Tabanga, who have been striking from March 19th and 25th, in protest of their administrative detention.
Khaled Farraj is still in solitary confinement cells in the Negev prison. Addameer's documentation unit confirmed that he suffers from the effects of his hunger strike, such as exhaustion and inability to absorb water. He also began to throw up yellow substances, resulting from the lack of food entering the body. On Monday, 22 April 2018, Addameer's lawyer petitioned to the occupation's Supreme Court to demand the release of Khaled Farraj, who was arrested by the occupation forces on 24 January 2018. Farraj's intial administrative detention order of 6 months was renewed twice. He completed 15 months in administrative detention.
Addameer holds the occupation authorities fully responsible for the life and safety of Khaled Farraj, as well as for the lives and safety of Hossam Ruzza and Mohammad Tabanga, who are also on hunger strikes. Addameer calls upon the international community and the state parties to the Fourth Geneva Convention to pressure the occupying state, to release Khaled Farraj and all administrative detainees. Addameer also calls upon the international community to take effective action to end the policy of administrative detention, which is practiced by the occupation authorities in violation international law.