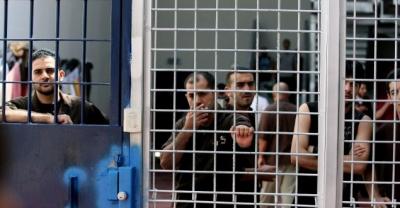 Ramallah- 31/8/2015- The Israeli Prison Service (IPS) transferred five administrative detainees to isolation in Ela prison, Ashkelon prison and Naqab prison on Monday, 31 August 2015 after they started an open hunger strike in protest to their administrative detention without charge or trial.
Adv. Mahmoud Hassan, Addameer Prisoner Support and Human Rights Association Legal Unit Director, reported that the IPS transferred Mr. Ghassan Zawahreh (34 years old) and Mr. Shadi Maali (39 years old) to Ela isolation, transferred Mr. Nidal Abu Aker (48 years old) to Ashkelon isolation, and transferred Mr. Munir Abu Sharrar (31 years old) and Mr. Bader Ruzeh (27 years old) to Naqab isolation.
The five detainees stated to Adv. Hassan, who visited some of the detainees at Naqab prison on Sunday, that they launched an open hunger strike on Sunday as a continuation to the escalatory steps they started on 20 August 2015 in protest of administrative detention policy, in which they stopped taking solid foods and consumed only liquids. They also boycotted the occupation's military courts along with 50 other administrative detainees to object and highlight the spuriousness of these courts, which rely on secret information that neither the detainee nor his lawyer can review, in addition to the fact that these courts are merely a tool to legitimize the occupation's practice of arbitrary detention policy.
Addameer expresses its full support and solidarity with the administrative detainees and their demands and rejection of the arbitrary administrative detention policy. Addameer believes that the systematic use of administrative detention by the Israeli occupation forces (IOF) is a form of torture and a violation of Article 147 of the Fourth Geneva Convention , a crime against humanity according to Article 7 of the Rome Statue of the International Criminal Court and a war crime according to Article 8.
The occupation forces also practice the administrative detention policy in violation of Article 78 of the Fourth Geneva Convention which states that administrative detention should not be implemented on protected persons unless for imperative security reasons and according to legal procedures defined by the occupying power and based on the Convention.
Addameer demands the immediate release of all administrative detainees and grant them their rights in accordance with international law. Addameer calls upon solidarity organizations, human rights organizations and individuals all around the world to join the campaign to end administrative detention while emphasizing the necessity of popular support for Palestinian prisoners and detainees.
By the end of July 2015 there were more than 400 administrative detainees held in the occupation's prisons, including three Palestinian Legislative Council members.