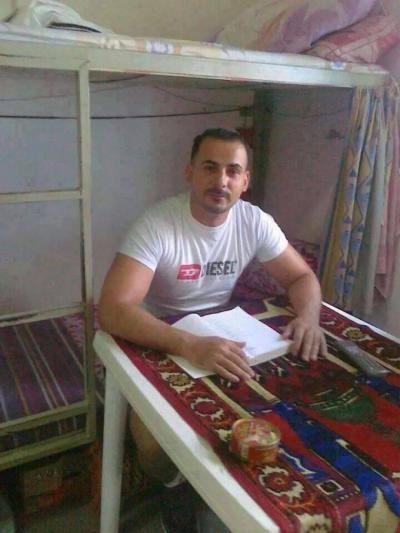 Occupied Ramallah – 18/7/2016
After Palestinian hunger striking prisoner Bilal Kayed was moved to Barzilai Hospital on his 33rd day of hunger strike, Addameer lawyer Farah Bayadsi visited him today to confirm his medical condition directly. During her visit Kayed informed her that he is chained to his hospital bed, wit cuffs tied around his right hand and left foot at all times. The cuffs are only unlocked if Kayed needs to use the bathroom. Kayed also mentioned that he is being subject to severe surveillance, with four prison guards remaining in his hospital room throughout the day in addition to the cameras, listening devices, and alarms that have been installed in his hospital room. Despite his chained hospitalization, Kayed remains committed to his hunger strike for freedom. He is therefore only consuming water while rejecting all vitamin or salt supplements and all medical examinations.
Kayed also stressed to the Addameer lawyer that the medical staff is intensely and continuously pressuring him to eat the supplements and end his strike. The deputy director from Rimon prison also visited him this morning to try to convince him to end his strike. When BiIal insisted that he would not, the prison director forcefully and painfully yanked at the cuffs chained to his feet.
It is important to note that Bilal was transferred to the hospital in Barzilai at noon yesterday in an ordinary vehicle after his health condition sharply deteriorated. He is still suffering from intense pain in his joints and throat inflammation; is unable to walk or to sleep; and has lost so much of his body weight, appearing severely pale.  
Bilal Kayed, a 35-year-old Palestinian from Nablus, was arrested in 2001 and sentenced to 14.5 years. Towards the end of his sentence, he was placed in isolation in Rimon prison from September of 2015 until his scheduled release on 13 June 2016. However, on the same day of his scheduled release, a six-month administrative detention order was issued against him without trial or charge, immediately after which he was placed back in isolation. Mr. Kayed has been on hunger strike since 15 June 2016 in protest of his detention without charge or trial. Until now and for the past 34 days, the Ofer Military Court has not responded to the appeal filed by Addameer's lawyer contesting the First Instance's court decision to confirm Bilal's 6-month administrative detention order.
Addameer considers the Israeli occupation's widespread and systematic use of administrative detention as a form of psychological torture and  a grave violation of the Fourth Geneva Convention,  international human rights, and humanitarian law.
Addameer holds the occupation forces and Israeli Prison Service accountable for the life of the hunger striking detainee, Bilal Kayed. We fully support Mr. Kayed and his demands, calling on the international community to pressure the occupation forces to respect international humanitarian law, to put an end to the occupation's impunity, and to provide Palestinian civilians with protection and justice.
Addameer is calling on the United Nations Secretary-General, Mr. Ban Ki-moon, and all High Contracting Parties to the Fourth Geneva Convention to fulfill their obligations towards protecting human rights and enforcing the implementation of international humanitarian law. We call on the aforementioned actors to push the Israeli government to immediately release Mr. Kayed and pressure Israel to end the use of administrative detention as practiced by the Israeli Occupation Authorities