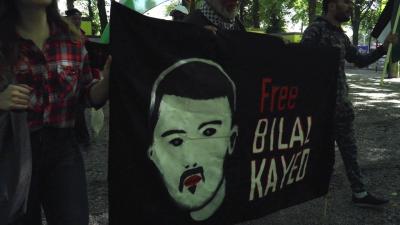 Administrative Detainee Bilal Kayed's health Deteriorates as Hunger Strike Enters 23rd Day
Twenty-three days after he began his hunger strike, administrative detainee Bilal Kayed's health steadily deteriorates. According to Addameer's attorney visit on 7/7/16, Mr. Kayed is still refusing to undergo any medical examinations or to take any vitamins and salt supplements.  He is currently only consuming water and has approximately lost 25 kilos of his weight. He feels tiredness, weakness and inability to fall asleep; he only sleeps one hour per day.
Bilal Kayed, a 35-year-old Palestinian from Nablus was arrested in 2002 and sentenced to 14 and a half years. He was previously placed in isolation in Rimon prison since September 2015 until his scheduled release on 13 June 2016 after completing his sentence. However, a 6-month administrative detention order was issued against him on the same day, immediately after which he was placed back in isolation. Mr. Kayed has been on hunger strike since 15 June 2016 in protest of his detention without charge or trial.
Addameer condemns the administrative detention of Bilal Kayed, and considers it to be a form of arbitrary detention that may amount to psychological torture. Addameer also demands the immediate release of Mr. Kayed, who has already served his sentence and whose detention is evidently an arbitrary one. Addameer is further concerned about the health situation of Mr. Kayed, and recognizes hunger strike as a legitimate form of peaceful protest against arbitrary detention.