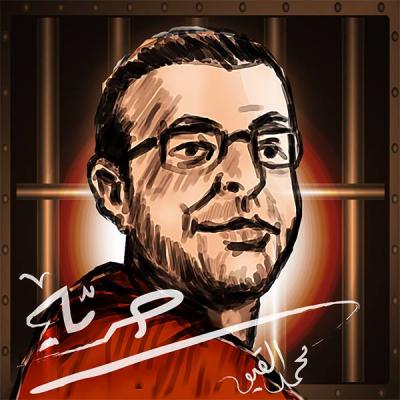 Ramallah – 18 January 2016 – Addameer confirms that the administrative detainee Journalist Mohammad Al Qeiq, who is on a hunger strike, has been forcibly treated (as opposed to force-fed) and is in a life-threatening condition. Al-Qeiq lost consciousness and was subsequently transferred to the Intensive Care Unit. Journalist Al-Qeiq, who has been on hunger strike for 55 days, in a joint visit by Addameer and Physicians for Human Rights in the Afula Hospital on 18 January 2016, stated that on Friday 15 January 2016, he felt severe pain on the right side of his body, which resulted in his loss of consciousness. When he woke up, he found himself in the Intensive Care Unit at Afula hospital.
Al-Qeiq added that Ethical Medical Committee in the Afula hospital told him on Sunday 10 January 2016 that he would be forcibly treated, and later that day a group of jailers forcibly held his arms and legs, after which the doctors placed the IV in his vein, which was kept until Thursday 14 January 2016.
Al-Qeiq stated that some of the doctors pushed him to end his hunger strike, through attempting to convince him to consume Ensure, milk, and chocolate, but he refused. Addameer reaffirms that forced treatment of Al-Qeiq and coerced medical examinations is a breach of international humanitarian law and international human rights law, as it constitutes an act that contravenes the human dignity of detainees and prisoners. Addameer also refers to the UN statement that: "The principle of an individual's right to informed and voluntary refusal of medical measures is reiterated in several basic United Nations human rights documents where lack of free and informed consent is considered a clear violation of an individual's right to health. "[1]
Addameer affirms that there is no justification for using forced treatment or force-feeding of the hunger-striking administrative detainee Al-Qeiq, taking into account the fact that he is fully aware of his decisions and fully understands his critical health condition. Al-Qeiq has refused to accept any medical treatment or examination, which means that any forced treatment without his consent could negatively affect his health condition and may put his life in danger, which has happened in precedent cases of force-feeding used by occupation forces during the Nafha prison hunger strike in 1980, which resulted in the death of numerous Palestinian prisoners and detainees.
Addameer calls for immediate action to save Al-Qeiq's life, who has been on hunger strike for 55 days in protest of his administrative detention without charge or trial. Al-Qeiq is in a life-threatening condition in Afula hospital and is refusing to take any food or supplements, including vitamins.