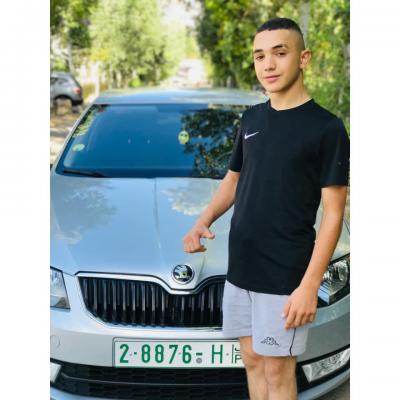 On 26 October 2021, Ofer military court confirmed the renewal of four months of administrative detention against Palestinian child Amal Nakhleh, 17 years old, despite his young age, the absence of any new or disclosed information, and, more gravely, the precarity of his health condition. Amal Nakhleh was first arrested on 21 January 2021 from his home by the Israeli Occupation Forces and placed under administrative detention. He suffers from myasthenia gravis, a rare neuromuscular disorder causing weakness in the skeletal muscles, which requires specialized medical care, regular medication, and constant monitoring of symptoms to avoid further health complications. Since then, according to medical reports, Amal has been found to face new compounding health concerns. 
The Israeli military commander issued the renewal of his administrative detention order on 19 September 2021, which was confirmed in its full duration of 4 months by the Ofer military court a month later. The confirmation represents the second renewal, and third term, of his administrative detention order, since his arrest on 21 January 2021. As such, Amal Nakhleh would not be released until 18 January 2022, marking an entire year spent under administrative detention with no charge or trial, based on "secret" evidence withheld by the Israeli military prosecution and court.
The severity of his detention, as a child detainee suffering from a multitude of health conditions, further compounded by the COVID-19 pandemic, led to a communiqué on 25 February 2021 by UN Human Rights experts and Special Rapporteurs expressing concern for Amal's administrative detention and urging "all necessary interim measures be taken to halt the alleged violations and prevent their re-occurrence…[and] to ensure the accountability of any person responsible." 
During the military court confirmation hearing, Amal was given an opportunity to speak, where he emphasized his worries regarding his physical and psychological health, particularly his medical condition, for which he requested monitoring by his personal doctor who is familiar with his condition. Amal further mentioned his worries regarding his future and expressed his wishes to be able to continue his current high school studies and later be able to enroll in university. 
The Ofer military court judge confirmed the extension of his administrative detention for the entirety of the four months, alleging that Amal posed a "serious threat to the security of the state," based on secret evidence that could not be disclosed. Paradoxically, the military court stated that the military prosecution did not submit any new evidence, but that the decision relied on "secret information" submitted in prior sessions. 
Notably, his most recent arrest and detention on 21 January 2021 follow a similar attempt at his continued detention less than two months prior, on 10 December 2020, when the Israeli military court of appeal confirmed Amal's release after 40 days of incarceration based on Amal's young age and physical and psychological health.
The confirmation of the renewed administrative detention order against Palestinian child Amal Nakhleh, despite the gaping inconsistencies, and lack thereof, in the purported "secret" evidence submitted by the military prosecution further point to the complicity of the Israeli military judicial system in the Israeli occupation and apartheid regime. Amal Nakhleh's case highlights the Israeli apartheid regime's systematic targeting of Palestinian children, demonstrating that no one is exempt from Israel's arbitrary policy of administrative detention and deliberate medical neglect, not even vulnerable Palestinian children or when grave health conditions emerge.